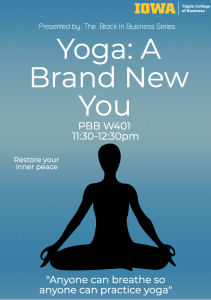 Yoga: A Brand New You
Wednesday, October 27, 11:30 a.m.-12:30 p.m.
W401 PBB
With all that comes with college life whether it be academically, socially, or emotionally it can be hard to let go of all the pressure. There is a constant battle to maintain our mental health. One way to relieve all this stress is yoga and meditation. Yoga can help you recenter your energy, rejuvenate your mind, relieve anxiety, improve sleep quality, and provide a better quality of life. One session for 60 minutes can put you back on track.
Come join the Black in Business team and learn how to connect your mind, body, and spirit with yoga (yoga mats optional). RSVP using the link  so we know who to expect: https://forms.gle/mH4MnFmhUq8vmrs97
If you have questions or concerns, feel free to contact mckenzie-turner@uiowa.edu.