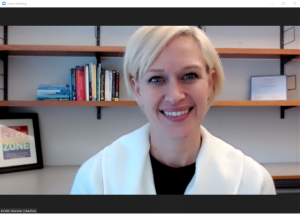 Hi! My name is Kristin. I'm a licensed psychologist and staff member of the University Counseling Service (UCS) who works specifically with Tippie students. I'm located in the Pappajohn Business Building (and, right now, Zoom). I'm here to support mental health in the college through outreach programming, clinical services, consultation, and more. Here are three facts about me:
I'm a three-time University of Iowa alum;
My services are confidential;
I enjoy meeting and working with students!
Have a question you want me to answer in our next newsletter? In need of support? E-mail me at kristin-wurster@uiowa.edu and get more information on the UCS at Tippie webpage.