Benefits of Your Involvement
Each of the 80 students in attendance are either an upper-classman executive board member or a top member within the Women in Business organization of their respective Big10 school. This shows that all attendees are high-achieving and motivated students, proving to be outstanding candidates for professional opportunities and internships. With your sponsorship, all members in attendance will be exposed to your company in one way or another. Whether this be through monetary or in-kind donations, attendees from across the Big10 will learn about your company and opportunities that you have to offer.
Sponsorship Tiers & Benefits Explanation
Podium Recognition

Receive podium recognition to all attendees at the event

Appearance in Newsletter

Opportunity to include your company logo on the University of Iowa's WIB newsletters that are sent to all members, alumni, and mentors

Resume Book

Gain access to each attendees' resume prior to the conference.

Info Sessions

Have 15-20 minutes to showcase your company and all the opportunities available.

Promotional Items

Ability to provide promotional items in registration bag at company's expense

Private Signature Sponsor Dinner

Opportunity to connect one-on-one with attendees and to showcase your company's culture.
Represent your company with a female speaker to tell their story to attendees.

Title Sponsor Designation

Official Sponsor of the Event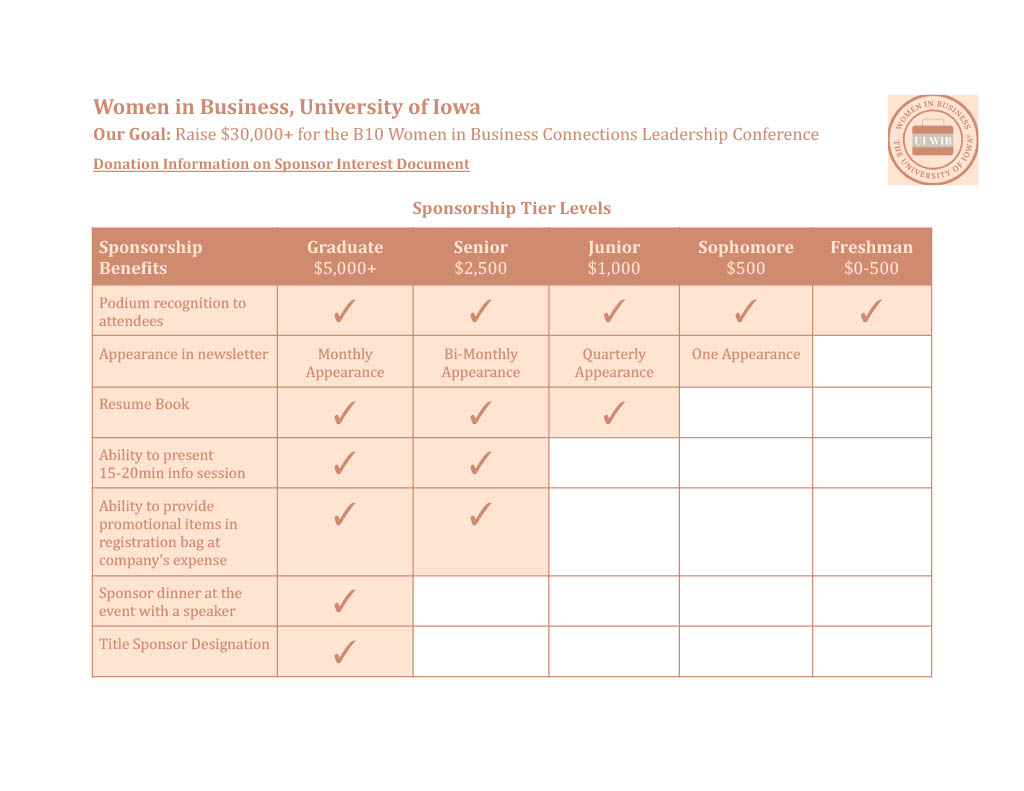 If you are interested in filling out a sponsorship form, please click the link below to download it!
We would like to thank you in advance for your generosity and for your interest in our organization. This year's conference will strengthen leadership skills among our attendees and provide an outstanding opportunity to gain insight and knowledge of other Women in Business organizations across the Big10 community. Your involvement will provide attendees with exceptional networking experience and exposure to potential employment opportunities. Should you have any questions, please do not hesitate to contact us directly wibuiowa@gmail.com, our President, Christina Kaufman, at christina-kaufman@uiowa.edu, or our VP of External Relations, Maddie Rigdon, at madeline-rigdon@uiowa.edu. We look forward to working with you!
Sponsorship
was last modified:
September 12th, 2022
by