Welcome to Fall 2021 semester!
Although this semester will be different from any other, our goal is to provide you with the resources, knowledge, and support as best we can. Visit the "Membership" tab above to see all the great benefits of joining our organization.
Check out our new Fall 2021 executive board members in the "home" tab above!
*Applications for Fall 2021 will be open in August*
About Us…
WIB encourages professional development and leadership while also promoting the importance of fostering relationships and inspiring women to reach their career goals and aspirations.
A typical WIB semester consists of General Meetings, Lean-In Circles, Professional Trips, Gal Pals, Networking Opportunities, and much more!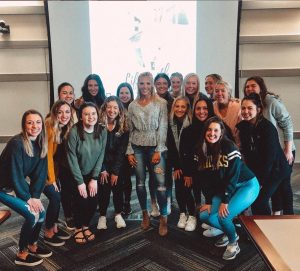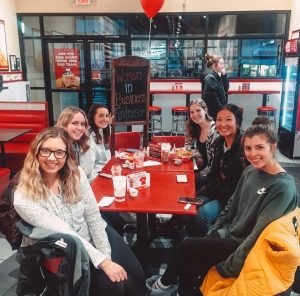 Pillars
Professional Development
Leadership
Community Service
Networking
Diversity, Equity, and Inclusion
In Women in Business, our dedication to welcoming individuals in any industry comes from our commitment to diversity, equity and inclusion. It is our mission as a student organization to ensure that each member of our community has an opportunity to thrive in our environment.
Diversity: We commit to increasing diversity, which includes race and ethnicity, gender and gender identity, sexual orientation, socioeconomic status, language, culture, national origin, religious commitments, age, (dis)ability status and political perspective.
Equity: We commit to working actively to reduce and respond to bias, harassment, and discrimination. We are committed to a policy of equal opportunity for all persons and do not discriminate on the basis of race, color, national origin, age, marital status, sex, sexual orientation, gender identity, gender expression, disability, religion, height, weight, or veteran status.
Inclusion: We commit to pursuing deliberate efforts to ensure that our campus is a place where differences are welcomed, different perspectives are respectfully heard and where every individual feels a sense of belonging and inclusion. We know that by encouraging diverse groups on campus, we can help create a vibrant climate of inclusiveness. You do not have to be a business major to join WIB. 
For any questions, contact our VP of DEI, Arianna Corteras, at arianna-corteras@uiowa.edu, or our President, Cami Hunter, at camryn-hunter@uiowa.edu.
Fall 2021
was last modified:
June 21st, 2021
by