Women in Business takes pride in their members and their accomplishments. Over the years, Women in Business has gained a positive reputation throughout the University of Iowa, the surrounding community, and its professional network. To ensure our members are willing to grow and strengthen our positive impact, we will be implementing a membership application starting the 2017-2018 school year moving forward. The application is not meant to turn anyone away, but rather used as a tool to collect important information, as well as for statistical purposes. For members to attend bi-weekly meetings and participate in WIB activities, she/he must complete a membership application and attend one membership meeting, if they were not a member the previous semester (Fall 2018). Once admitted into the organization, the member must fulfill the point requirements to gain full membership.
Check out this semester's Member Packet for some basic information perfect for new members!
The Fall 2018 Member Packet includes brief information on the following:
What is WIB? – Our Purpose, Mission Statement, Pillars, Dues, and Social Media
Executive Board – Names, Positions, and Emails
General Meetings – What to Expect and the Series
What to Wear – Business Casual vs. Business Professional
Point System – Break Down and Point Levels
Philanthropy with IWF
Lean in Circles and Gal Pals
Mentoring Program
Professional Trip
ABOUT US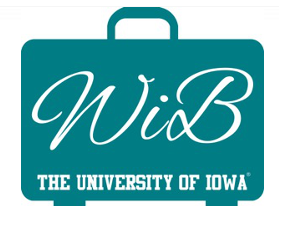 From Backpacks to Briefcases…
Our Purpose
WIB encourages professional development and leadership while also promoting the importance of fostering relationships and inspiring women to reach their career goals and aspirations.
WIB MISSION STATEMENT
Encouraging professional development by promoting leadership, fostering relationships and inspiring young women to reach their full potential.
pillars
Professional Development
Leadership
Community Service
Networking
History
Members of Women in Business strive to answer the question, "What can we do to empower women to improve their lives and inspire them to improve the lives of others?" Throughout its history, WIB has worked toward this mission by providing women at The University of Iowa with significant leadership opportunities, community involvement, and professional development. This organization is dedicated to empowering, inspiring, and improving the lives of others and to expand each individual's leadership potential.
WIB was founded in 1998 by an undergraduate student, Jennifer Cropper. Having previously spent several years serving in the U.S. Military, Cropper enrolled at The University of Iowa to complete an accounting degree. During that time she voiced the concern that women (undergraduate, graduate, and faculty) in the College of Business faced a complex set of challenges, different from those of their male counterparts.
Through her efforts, the WIB student organization was formed, with Jennifer serving as its first president. Unlike the National Association of Women MBA's (formerly Graduate Women in Business), there is no national Women in Business organization. The concept, its implication, and its success are all attributable to the innovation and dedication of Iowa students.
During its first year of inception, WIB officers laid the foundation for an active, vital student group that could make a meaningful difference in the lives of its members and women in the local business community.
WIB began a mentoring program, the first of its kind in the Henry B. Tippie College of Business, in which student members were connected with established business women in the local community.
WIB established a scholarship program dedicated to recognizing and rewarding members with records of exemplary academic performance and leadership.
In addition, WIB has highly encouraged the professional development of its members that include opportunitites to hear from dozens of speakers from the corporate and academic worlds, resume and interview preparation workshops, and professional trips.
This organization also works to serve the needs of the broader community by being involved in Tippie Build, Dance Marathon, Relay for Life, and Ronald Mcdonald house