On Monday evening, April 19, at 7pm, you are invited to join a special alumni panel focused on working internationally.  The event will occur on Zoom.
If you are interested, please RSVP here. All students participating will receive the Zoom link on Monday afternoon.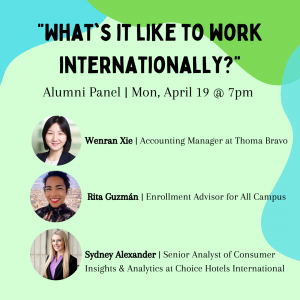 Wenran Xie is a manager at Thoma Bravo, a Private Equity firm based in Chicago. Prior to Thoma Bravo, she worked for EY, where she held several titles with her final being Assurance Manager.  Wenran is a native of China and was very involved in many University of Iowa programs while a Hawkeye.
Rita Guzmán currently advises online graduate students in her role as an Enrollment Advisor for All Campus. As a college student at Tippie, Rita studied abroad in London and participated in the Tippie Dublin Summer Internship Program. After graduating in 2018 with a marketing major, international business certificate, and Portuguese minor, she taught English in Portugal through the Fulbright Program.
Sydney Alexander is a Senior Analyst of Consumer Insights & Analytics at Choice Hotels International at their global HQ. While she now lives in Washington DC, Sydney is a proud Michigan native. Sydney graduated from the University of Iowa in 2018 with degrees in both Business Management and Theatre Arts.  While at Tippie, Sydney interned in London.