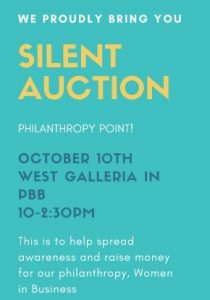 Join Women in Business (WIB) at their annual Silent Auction this Thursday, October 10th.
All proceeds from the auction will benefit the Iowa Women's Foundation, a statewide nonprofit based in Iowa City that advocates for economic self-sufficiency for Iowa women.
Thursday, October 10
10:00am – 2:30pm
West Galleria, PBB (near Pat's Diner)
How does a silent auction work?
A silent auction is a common way for organizations (often nonprofits) to raise funds.  Goods and services donated by businesses and individuals are packaged into gift baskets, often with a theme, such as "movie night" or "spa retreat."  Those gift baskets are then set out on tables with a bid sheet at each one.  During auction hours, anyone can come by to look at the gift baskets and decide if they would like to bid on one.  To bid, you write your name, contact info, and your bid amount on the bid sheet.
If you are the person with the highest bid on that sheet at the end of the auction, you are the winner.  You will be contacted and asked to pay for your gift basket for your bid amount.