New Weekly YouTube Series:
Couch to Career
is here! 
Get weekly tips on how to prepare and develop your skills in job searching, interviewing, and career advancement from PCC's very own Courtney McClellan and Sauvik Goswami. Each week is a new topic.
Want Courtney and Sauvik to talk about a specific career topic on next week's show?
Watch episode 5 on Personal Branding and drop a comment to let us know what things YOU want to hear our couch crusaders cover in future episodes (and please don't forget to like, subscribe, and share with #C2C #uiowa)!
Navigating COVID-19 while Job & Internship Searching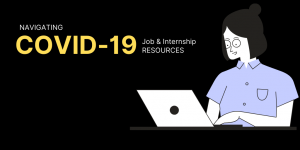 During this time of uncertainty, we realize many students have questions related to both employment and graduate school plans.  For others, class registration also brings questions about major and career decision-making.  We also know some are dealing with delayed, canceled or rescinded internship or full-time job offers.
The Pomerantz Career Center and many others are here to help.