This week is Suicide Prevention Week. Suicide is the 3rd leading causing of death among 15-24 year old and 11.3% of young adults 18-25 die annually due to suicide.
With the high prevalence rates, many students have been touched and severely impacted by suicide. You are not alone and there are many resources available.
Resources:
University of Iowa partners with CommUnity Services in Iowa to provide 24/7 crisis support to students.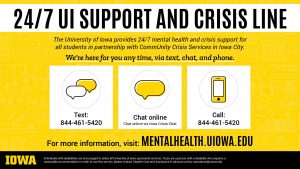 In July, the use of 988 was launched to be used in mental health crisis situations.This operates similar to 911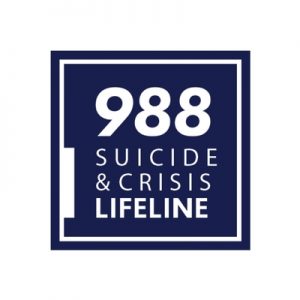 Other local Emergency Resources Include:
GuideLink Center | Adult Mental Health and Substance Use Services: 319-688-8000
CommUnity: 1-855-581-8111
UIHC Emergency Treatment Center: 319-356-2233
UCS at 319-335-7294 between 8:00 a.m. and 5:00 p.m. to request a quick access or same-day appointment.
Supporting Others:
It can be overwhelming to know how to support a friend or family member who is having suicidal ideation. Here are a few do's and don'ts to keep in mind.
Do:
Talk openly and honestly. "Do you have a plan for how you would kill yourself?"
Remove means such as guns, knives or stockpiled pills
Calmly ask simple and direct questions, like "Can I help you call your psychiatrist?"
Express support and concern
Be Patient with them
Explore what they need in this situation
Don't:
Argue, threaten or raise your voice
Debate whether suicide is right or wrong
Warning Signs:
Collecting and saving pills or buying a weapon
Giving away possessions
Tying up loose ends, like organizing personal papers or paying off debts
Saying goodbye to friends and family
In addition to:
Increased alcohol and drug use
Aggressive behavior
Withdrawal from friends, family and community
Dramatic mood swings
Impulsive or reckless behavior
If you are in need of mental health services, Tippie College of Business has an embedded Mental Health Therapist available. Please contact Kati Schneider to schedule an appointment.
Resource: https://www.nami.org/Get-Involved/Awareness-Events/Suicide-Prevention-Awareness-Month-(SPAM)