Hey Hawkeyes!
Career Fair season has begun! Check out the Career Fair website to see what's on the docket for Spring 2023!
"How does one prepare for a Career Fair?" 

Get your resume ready. 
Get help from our Career Advising Peers with updating your resume:
Pomerantz Career Center
Drop-in hours:  Monday – Friday, 10 am-2 pm,  C310 PC
Then, print off copies and bring them to the Career Fairs you plan to attend.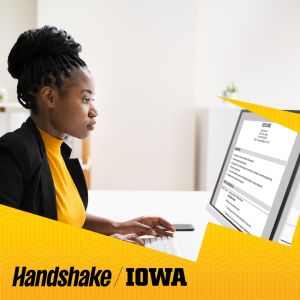 Download the Handshake App.
Update your profile with your most recent resume
Check out which employers are coming and what positions they are hiring for – Handshake will also showcase the employer map at the event so you can search for their tables and discuss opportunities!
The All Major's Career Fair on February 22 really is for all majors and you will see a variety of employers attending!
Attend Do's, Don'ts, and Donuts
Do's Don'ts & Donuts will not only have free donuts for you to enjoy, but will let you learn all about what to expect at the All Majors Career Fair.