Welcome back students! We have lots of opportunities for you to take advantage of the first week of classes and beyond!
INTERN READY
Looking for a way to take control of your future, and get a jump start on your internship search?
If so, join us (at your own pace) and participate in Intern Ready!
Accelerate your internship search with a free self-paced series available on ICON. In a time that seems chaotic, you still have the power to control where your career goes from here – one step at a time!  Get feedback throughout the series from Career Center staff!
To get started >> enroll on ICON at https://icon.uiowa.edu/selfRegistration/course/170394
SPRING JOB & INTERNSHIP FAIRS
Get your resumes ready and mark your calendars – job fairs are soon approaching! Registration begins on February 1st!
Tippie Tech: Data & Information Job & Internship Fair
Tuesday, February 23, 2021 :  12 pm – 4 pm – VIRTUAL FAIR
Learn about other awesome events: https://careers.uiowa.edu/events
WATCH THE WEBINAR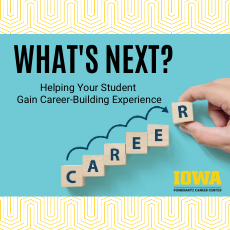 Parent and Caring Other Webinar: What's Next? Helping Your Student Gain Career-Building
In case you missed it – watch the webinar at: https://youtu.be/JCSjGWPCosc
This session covers trends for employment and the essential ways that you can assist students with finding opportunities to gain career-building experiences during the winter break and spring semester.
Hear more about current hiring and recruiting trends, learn more about how your student can engage with career services on campus or remotely, explore how your student can prepare for their internship (or job) search over winter break!
This virtual webinar was created for the parents and guardians of current students who are preparing to seek an internship or post-graduation employment or graduate school, but it's super helpful for students too!)
EMPLOYER EVENTS
Tuesday
Keyot Financial Wellness Series (Part 1/2): How to Grow Your Finances with Next to Nothing
Tuesday, January 26th 2021, 12:00 pm – 1:00 pm
https://app.joinhandshake.com/events/661474/share_preview
College Programs Series: Operating Companies and the Value of an MBA
Tuesday, January 26th 2021, 5:00 pm – 5:45 pm EST
https://app.joinhandshake.com/events/665114/share_preview 
Explore Wycliffe Life — Bringing the Scriptures to Life: Vernacular Media Specialist  
Tuesday, January 26th 2021, 5:00 pm – 6:00 pm EST
https://app.joinhandshake.com/events/655299/share_preview 
Going Global with KPMG
Tuesday, January 26th 2021, 6:00 pm – 6:45 pm EST
https://app.joinhandshake.com/events/665898/share_preview 
Wednesday
Day In the Life of an Intern at PPD  
Wednesday, January 27th 2021, 4:00 pm – 5:00 pm EST
https://app.joinhandshake.com/events/660787/share_preview 
 ScribeAmerica Information Session  
Wednesday, January 27th 2021, 5:00 pm – 6:00 pm EST
https://app.joinhandshake.com/events/636907/share_preview 
Thursday
ScribeAmerica Information Session
Thursday, January 28th 2021, 12:00 pm – 1:00 pm EST
Interest Areas: Health and Wellness
https://app.joinhandshake.com/events/636908/share_preview 
Connect Now – The Power & Secrets of LinkedIn – A Leona Leads Event  
Thursday, January 28th 2021, 2:00 pm – 2:45 pm MST
https://app.joinhandshake.com/events/655036/share_preview 
Day in the Life of AmeriCorps Service
Thursday, January 28th 2021, 4:00 pm – 5:00 pm EST