Can't travel but still crave a global adventure? Need workplace experience for your resume and transcript? Want to explore your future career? Looking to satisfy Tippie RISE?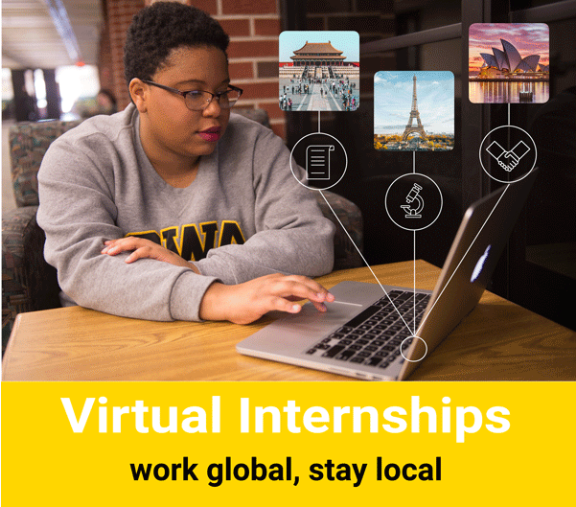 International travel may be closed for the semester, but there are still amazing opportunities to have a global experience this spring. These virtual global internships can be done in place of a UIowa course or in addition to a 12 credit UI course load. They appear on your UIowa transcript and are eligible for financial-need-based aid. They not only bring back credit, they give you international and remote work experience as well.
VIRTUAL/REMOTE  GLOBAL INTERNSHIPS – Spots Open for SPRING 2021
What is a Virtual Internship?
Call it what you will: Remote Internship, Virtual Internship, Online Internship, Tele-working, Telecommuting, it all means the same thing: you will be completing your internship…directly from your own laptop!
Remote internships mean that you can work with companies across the globe to support a variety of projects ranging from basic social media support to full business projects, website designs, market reports, financial assessments, usability testing code, and much more.
When completing a remote internship many of the same aspects of a traditional in-person internship still exist including, meetings with your supervisor or teammates, completing a mix of individual and group projects, and learning about the overall company culture and the industry it works in.
Internships through our providers also mean you will have an in-depth exploration of your host country's work culture, gain career coaching and develop a cohort of other students all working 'in' your same location.
Why do a virtual internship this spring?
An internship looks great on your resume, especially with an international organization
You can still work or take classes while completing an internship
In-person internships both overseas and here in the US have been closed in many locations
You can gain a 3, or 4 credit internship credit that appears on your UI transcript. (Done in place of a UI course or in addition to a 12 credit UI course load.)
You will gain valuable experiences working with an international company organization that you can talk about
For more information about virtual global internships, please contact the UI Study Abroad Office to arrange a time to talk with the Virtual Internships Coordinator: Monica Ernberger (319-335-0353). There are still openings for spring 2021!