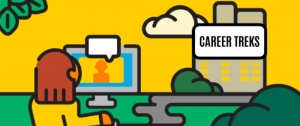 Career Treks are a career exploration initiative that allows students to travel to various cities in order to gain insight into career fields of interest. During the pandemic the Career Trek program was expanded to include virtual treks as well.
This is a great opportunity to for students and employers to network, discuss internship and full-time job opportunities, and for students to learn about the company's environment, day-to-day operations, and the hiring process and timeline.
UNITED TALENT AGENCY (Virtual)
unitedtalent.com
Friday, October 29
11:00am-12:00pm
Registration Open until October 22
CHILDSERVE (Virtual)
childserve.org
Friday, November 5
11:00am-12:00pm
Registration Open until October 29
Student Registration
This Career Trek is free for undergraduate students to attend. Click on each registration link to go to the description in Handshake and learn more about each company.
Login into uiowa.joinhandshake.com with your hawkID and password. (See below to set up your profile if it is your first time logging into Handshake.)
Click on the registration link provided for the trek you want to participate in and register through Handshake, before the deadline.
Once you have completed registration, you will receive an email with more instructions.
Questions?
Contact Sarah-Kiburz@uiowa.edu or call 319-335-1023 during normal business hours.
---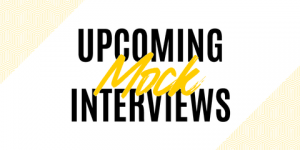 Want to finesse your interview skills?
Participating in Virtual Mock Interviews at the Career Center gives you feedback and experience with an actual recruiter who is volunteering their time to help you prepare for interviews.
Monday, October 25th
Kunkel & Associates Inc.
Wednesday, October 27th
LaSalle Network
Northwestern Mutual
Thursday, October 28th
Tata Consultancy Services

Now is the best time to update and complete your profile on Handshake!
Handshake is essential to EVERY STUDENT to find employment opportunities, internships, networking events, and career fairs during their time here at Iowa. 
Login to Handshake.
Go to http://uiowa.joinhandshake.com/ and login with your hawkID and password.
Now that you're logged in to Handshake, upload a resume.
You'll likely want to have a public resume available in Handshake for employers  to see.To learn more about how to upload a document, refer to How to Upload a New Document. Once you've uploaded a resume, you can use it to fill in your profile — refer to Build Profile from Resume for more information.
Fill out your profile.
If there are already details in your profile, this means Iowa has pre-loaded your information. Check to be sure all pre-loaded information is correct, especially your major and GPA (if included); if you find any errors, contact careercenter@uiowa.edu and let the Career Center know so they can correct it.For more information on filling out your profile, refer to How to Drive Profile Completion.
Explore Handshake!
Use your home page, the top search bar, and filters to look for companies and jobs you're interested in learning more about or applying to. Remember, you can always save your searches in Handshake, so finding relevant employers and jobs will be easy.
Follow some jobs and employers you're interested in.
When you follow an employer or a job, you can begin filtering based on companies you follow. You'll also receive alerts when the job application window is closing or when an employer is attending an event or fair at your school.
Once you've taken these five steps, you'll be on your way to using Handshake to help you efficiently and effectively launch your career!
Learn more by visiting: Getting Started with Handshake