Tippie Thrive is working to build emotional resilience and student success by providing opportunities for awareness, reflection, education, and support of mental and emotional needs through peer connections. You might be asking what that means exactly; Tippie Thrive is looking at ways to support students emotional and mental wellness or well-being. Mental health often gets the reputation of "something is wrong," and in reality, our mental health is part of us good and bad. Our mental health needs to be cared for just as our physical health is. Tippie Thrive is providing opportunities for students to support, improve, or maintain their emotional and mental health, not because something is wrong, but because it's wellness. We want students to thrive in and out of school!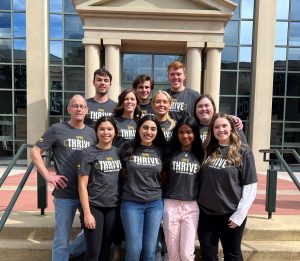 Leading Tippie Thrive is the Tippie Thrive Advisory Board. These members were chosen from an application and interview process. Please meet the board members:  Thomas Burgfechtel-Tippie Senate Representative, Ella Demaray, Patrick Fornatto, Alisa Gandhi, Grace Hastings, Madisen Jackson (MJ), Luke Manley, Mckenzie Turner-DEI Ambassador Representative, Rick Marolt-Faculty Representative, Kati Schneider-Program Director, and Adrienne Maxwell-Program Director
Tippie Thrive has multiple events planned for the rest of the spring semester including: Social Media Spring Clean-up the week of April 17th, Yoga in the Courtyard on April 20th,  Therapy Dogs TBD,  Thriving in your Next Steps: A discussion with Tippie Alumni  on April 27th and connecting with student organizations/groups to assess their needs on April 12th. Be on the look out for these events and explore ways in which you can take steps to thrive!
Tippie Thrive is a program developed in partnership with University Counseling Services (UCS) embedded location and Undergraduate Program Office (UPO) at Tippie College of Business (TCOB).  For more information on Tippie Thrive contact Embedded Mental Health Therapist, Kati Schneider kati-schneider@uiowa.edu or Associate Director of Student Success, Adrienne Maxwell, Adrienne-maxwell@uiowa.edu