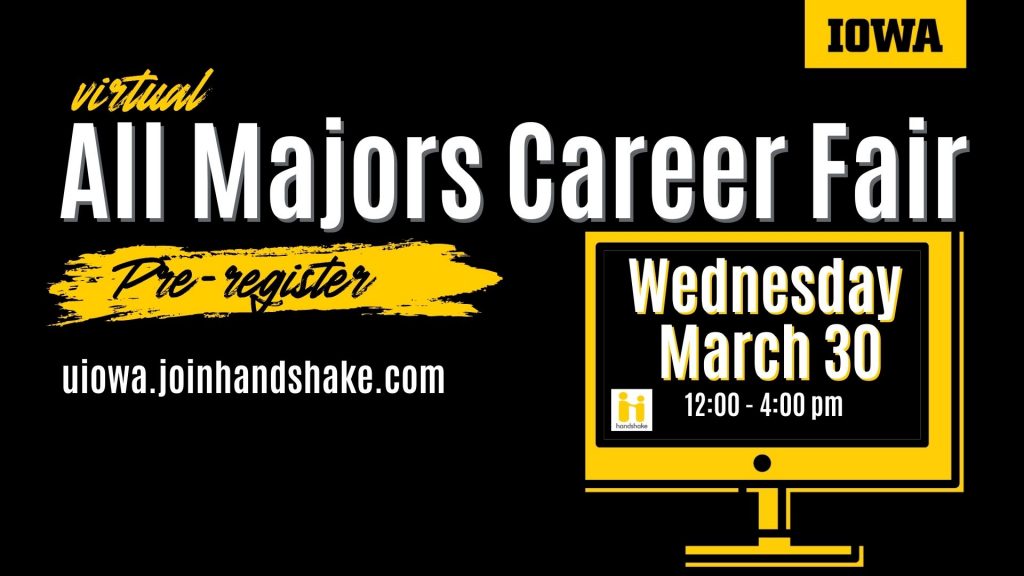 Virtual Tippie Tech Job & Internship Fair
Tuesday, March 29, 2022, 1–4pm
The Virtual Tippie Tech Job & Internship Fair will connect students majoring in BAIS, Computer Science and Computer Engineering with Employers interested in hiring for jobs and internships.
1. Register in Handshake.
2. Pre-schedule 1:1 or group sessions with employers you're interested in or join an open session the day of the event.* Some sessions may fill up – we recommend you pre-schedule! Students can still attend if you don't pre-schedule.
4. Prepare How to navigate a Virtual Fair in Handshake
Handshake Virtual Fair Tips
Handshake Video – Locating and Registering for Virtual Fairs
Handshake Virtual Fairs – Student Experience Information
Handshake Virtual Fairs – How to Register
Handshake Video & Tech Requirements
Virtual Fair Trust & Safety
Virtual Fair Accessibility
5. Prepare professionally by watching Fair Help videos
How to Create an Elevator Pitch video
Tips on How to Prepare
After the Event Tips
Additional Information
Alum – click here to get a Handshake account to participate! Current students – you will already have a Handshake account even if you have not accessed yet – click here to activate and/or login.
Update Your Resume and talk with a Peer or a Career Coach – connect virtually by scheduling an appointment on MYUI! Peer advisors have drop-in hours Monday – Friday, 10 am – 2 pm in C310 Pomerantz Center.