Have extra room in your class schedule that you need to fill?
Check out our 1, 2, or 3 semester hour courses on myUI! We'll be highlighting some new and exciting course offerings for next semester…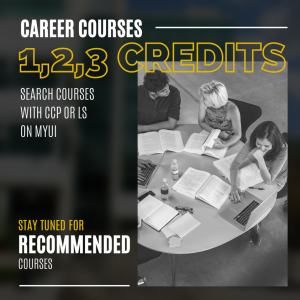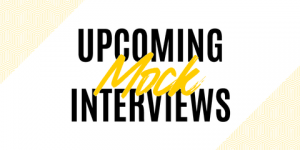 Tuesday, November 2nd
Arrive Logistics
Wednesday, November 10th
Renaissance Financial
Wednesday, December 1st
Renaissance Financial
6 Steps to Sign Up for a Mock Interview
STEP 1: Log into your Handshake account
STEP 2: Enter or Update Profile Information
STEP 3: Upload Your Resume.  Click on your name in the upper right hand corner and then Documents and Add New Document.
STEP 4: To apply to a mock interview, go to Jobs and type Mock into the keyword search area.
STEP 5: Click on the title of the mock interview you are interested in and then click Apply.
STEP 6: Select the Interview Time.  Click Submit. Make sure the resume you would like the employer to see is the one that appears in the drop down box.
Here are tips for preparing for your mock so you know what to expect!
Events Galore!
Tuesday:
What: Trained for Success: My POOLCORP MIT Program Experience
Interests: General Business, Sales, Operations
When: Tuesday, November 2nd 2021, 3:00 pm – 4:00 pm
https://app.joinhandshake.com/events/879911/share_preview
What: Real Talk Tuesday: Diverse Abilities @ Ford
Interests: Manufacturing, General Business
When: Tuesday, November 2nd 2021, 4:00 pm – 4:45 pm EDT
https://app.joinhandshake.com/events/799226/share_preview
What: Aramark Early Careers Presents: Professional Development Series – Ace Your Next Interview
Interests: General Business, Food/Uniform Service, Facilities
When: Tuesday, November 2nd 2021, 5:00 pm – 6:00 pm EDT
https://app.joinhandshake.com/events/807293/share_preview
Wednesday:
What: Breaking Barriers: FIRST-GENS IN TECH 2021
Interests: Technology, First-Generation Students, STEM
When: Wednesday, November 3rd 2021, 9:00 am – 7:00 pm EDT
https://app.joinhandshake.com/events/871822/share_preview
What:  Using Visual Thinking to Build Your Resume and Achieve Your Career Goals
Interests: Digital Media, Resume & Cover Letter Tips
When: Wednesday, November 3rd 2021, 12:00 pm – 1:00 pm PDT
https://app.joinhandshake.com/events/841368/share_preview
What: Morgan Stanley Student Ambassador 'Pointers from Peers' Series – Sales & Trading and Research
Interests: Investment Banking, Finance, Accounting
When: Wednesday, November 3rd 2021, 5:00 pm – 5:45 pm EDT
https://app.joinhandshake.com/events/876674/share_preview
What: October Coding Challenge
Interests: Coding, Computer Science, Technology
When: Wednesday, November 3rd 2021, 5:30 pm – 6:30 pm EDT
https://app.joinhandshake.com/events/873708/share_preview
Thursday:
What: Titan Talk: Securing a Successful Sales Internship
Interests: Sales, Marketing, General Business
When: Thursday, November 4th 2021, 4:00 pm – 5:00 pm
https://app.joinhandshake.com/events/832454/share_preview
What: Morgan Stanley Student Ambassador 'Pointers from Peers' Series – Investment Management & Wealth Management
Interests: Investment Banking, Finance, Accounting
When: Thursday, November 4th 2021, 5:00 pm – 5:45 pm EDT
https://app.joinhandshake.com/events/876678/share_preview
Friday:
What: Pro Football Hall of Fame "Before the Snap" ft. Rachel Gutting
Interests: Professional Sports, Communications, Public Relations
When: Friday, November 5th 2021, 12:00 pm – 1:00 pm EDT
https://app.joinhandshake.com/events/883488/share_preview
What: NOW HIRING: Entry Level Roles @ Fisher Investments
Interests: Operations, Sales, General Business
When: Friday, November 5th 2021, 3:00 pm – 4:30 pm