University Counseling Services offers drop in workshops to help you build skills to help you cope with adjustments and stressors. These are offered via zoom and are not sequential.
Mindfulness Matters
Mindfulness is purposefully paying attention, non judgment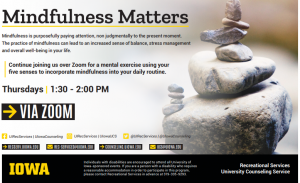 ally to the present moment. The practice of mindfulness can lead to an increased sense of balance, stress management and overall well-being in your life.
Offered Thursdays 1:30-2:00 p.m.
Join: https://uiowa.zoom.us/j/129398591
The Energy Hub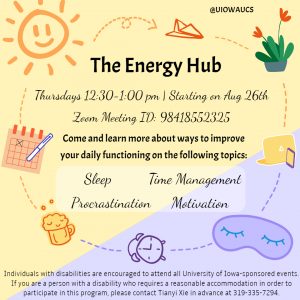 30 minute workshops that focus on topics of sleep, time management, procrastination and motivation. Students can drop in to as many workshops as they would like.
Offered Thursdays 12:30-1:00 p.m.
Join https://uiowa.zoom.us/j/98418552325
For a listing of topics and dates visit University Counseling Website