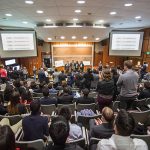 The Kelley School of Business (Indiana University) – National Diversity Case Competition (NDCC) is a premier event that brings together top-level, diverse talent from colleges and universities across the country. The two-day event includes a networking reception and dinner, case competition, and workshops. The NDCC is held annually over the Martin Luther King Jr. holiday weekend and in 2020 the Kelley School will host the 9th annual competition on January 17-18, 2020. For more information about NDCC visit their website.
The NDCC team chosen to represent the Tippie College of Business will be a team of four students who exhibit a passion for diversity, equity, and inclusion in their academic and professional interests. Tippie students will apply individually at the link below. You will then hear back from the Selection Committee after all applicants have been initially reviewed. Students will be selected based off of demonstrated interest in competition, leadership, and involvement experience. The team can have no more than one Senior and at least two members must come from an underrepresented student background. Application extension deadline is Friday, September 27th at 3:00PM.
Apply Here: https://uiowa.qualtrics.com/jfe/form/SV_5jrGbeeeRAQfht3
Corporate partners also have the opportunity to recruit students by judging the case competition, presenting workshops, and participating in the networking reception. Undergraduate students from institutions across the United States will be able connect with the event's corporate partners throughout the weekend. Sponsors include: Target, EY, GE, Proctor & Gamble, Bank of America, PwC, Amazon, and many others!
Student who compete in the competition will:
Have provided meals, lodging, and travel expenses to Indiana University in Bloomington, IN (flight and ground travel)
Prepare competition material and practice presenting with Frank Center staff
Find opportunities to engage with corporate partners and recruiters to make career connections
Network with other talented students from across the country
Compete in a case competition with over 40 universities to win $20,000 in cash prizes
For more information about NDCC and the Tippie team contact tevin-robbins@uiowa.edu.