Are you a student who believes emotional and mental health are critical components to your success as a student and future business professional? Consider applying to join Tippie Thrive Advisory Board!
Tippie Thrive is a program developed in partnership with the University Counseling Services (UCS) embedded location and Undergraduate Program Office (UPO) at the Tippie College of Business (TCOB). The mission of Tippie Thrive is to build emotional resilience and student success by providing opportunities for awareness, reflection, education, and support of the mental and emotional needs of students through peer connections.
We are currently looking to recruit 4 students with diverse experiences  who are committed to decreasing the stigma related to emotional and mental health by coordinating events, programming, and workshops to support Tippie students. New members will join the current 7 students in the Spring of 2024.
Current members include: Thomas Burgfechtel, Ella Demaray, Patrick Fornatto, Alisa Gandhi, Madisen Jackson, Lucas Manley, Mckenzie Turner, Rick Marolt-Faculty, Kati Schneider-Program Director, Adrienne Maxwell-Program Director.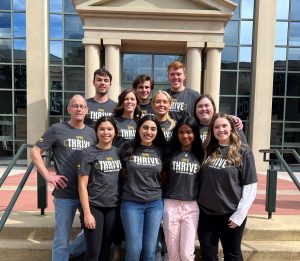 You must thrive in working in a team environment and maintain flexibility while serving on Tippie Thrive Advisory Board. You can expect one hour biweekly Thrive Advisory Board meetings and participation in Thrive programming starting in the spring 2024 semester. This will be a paid position. You can find more details on our website including the full job description and online application. Applications are due Oct. 1st at midnight.
Thank you for your support of Tippie Thrive! Should you have any questions you can reach out to Program Directors Kati Schneider and Adrienne Maxwell. Or speak with a current member to learn more about their experience.