The AAF (U of Iowa Chapter) goes on two professional trips a school year to major advertising hubs like Chicago, Minneapolis, Kansas City, Des Moines
These are great opportunities to learn about the advertising industry, meet advertising professionals, and find potential internship and job opportunities!
2016 Fall Trip-Des Moines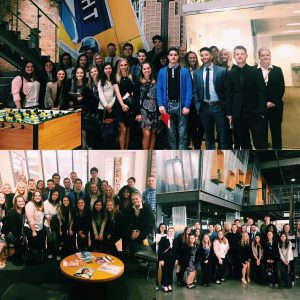 October 14th was quite a busy day for the AAF at the University of Iowa. We met at 6:40 AM to begin our drive to Des Moines. Two hours later, we arrived and jumped right into the advertising world. The first stop we made was to Juicebox Interactive. It is a small agency that holds a lot of power. We were able to tour their very modern and unique office and hear from the owner and some of the employees. It was very enlightening and helpful to see the ins and outs of a smaller agency.
Our next stop was to Flynn Wright. It was a completely different environment. It was a much busier with around 70 employees and a huge office space. Like Juicebox Interactive, Flynn Wright had a very modern and clean feel. We split into 2 groups for our tour and then came together for a Q&A session. Everyone was very honest with us and explained that it is a hard field but if you put your all into it, it is extremely rewarding at the end of the day.
After a quick lunch break, we drove to our next agency, Two Rivers Marketing. The interior was like something we had never seen before. It had a rustic vibe and floating offices that reminded us of a tree house. Their main clients are industrial such as John Deere or Bobcat.
Our last stop was to Gannett which is part of the Des Moines Register. A lot of the work they do there is geared towards the newspaper and doing statistical analyses on the views that the paper gets. It was a totally different environment but it helped our members to understand where they see themselves working.
Overall, most of the cultures expressed that their employees work extremely hard but they are rewarded for it. They like to celebrate their successes and it was quite obvious from the people we spoke to, that they truly love coming to work every day. AAF UIowa had a very successful trip and we topped it off with a delicious dinner at Spaghetti Works. We can't wait until our trip in the spring!
Professional Trips
was last modified:
July 26th, 2023
by