Author: Maddie Bro - "4 Reasons to Become a Mentor"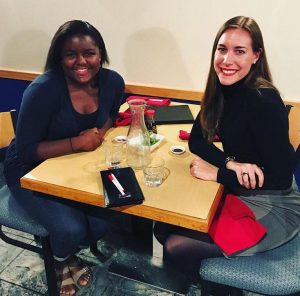 "Far too many people are looking for the right person, instead of trying to be the right person." –Gloria Steinem
Author and feminist activist Gloria Steinem's quote rings true in a multitude of relationships, from the personal to the professional.
Fresh off my graduation from college and start in the working world, I found myself wanting to engage with the Iowa City community and gain fulfilling volunteer experience. Steinem's quote guided my search. I asked myself, how can I make a true and meaningful impact in someone's life?
While updating my LinkedIn profile last summer, I happened upon a post in my news feed calling for local female professionals to apply to become mentors for young women at the University of Iowa's Tippie College of Business. After digging deeper into the mission of Tippie's Women in Business (WIB) organization, I was hooked.
The WIB External Mentoring Program matches female undergraduate students at the University of Iowa with local female professionals of similar common career goals and professional interests. Mentors and mentees, also known as "gal pals," are required to meet at least once a month. My mentee and I treat ourselves to sushi and talk about an array of topics, including:
Work-life management
Advanced degrees and higher education
Volunteering opportunities
Community events
Leadership styles and conflict management
As a mentor, I aim to inspire my mentee to achieve her goals and foster trusting relationships with her female classmates and other businesswomen. Being a WIB mentor has many benefits such as:
1) Gain a sense of fulfillment 
According to a study conducted by researchers at the University of South Florida, women who are mentored by other women feel more supported and satisfied in their careers. Sharing your professional experiences with your mentee can make a world of difference in her transition from college to her professional life. For me, supporting young women as they chase their dreams helps me feel like I'm making an impact in my community. It fills my heart with joy on a daily basis.
2) Empower the next generation of female business leaders 
As recently as 2015, Iowa has ranked last among the 50 states in growth and success of female-owned businesses. Iowa has landed last or at the bottom of this ranking since the annual survey's initial release in 2011. Results of the survey, conducted by American Express, point to the need to encourage young women prior to their entrance into the working world. Preparing young women for the potential hardships they will face in the workplace as female professionals can increase their prosperity in business and other fields they enter.
3) Add volunteer experience to your resume 
Spending just a few hours a week assisting a service or nonprofit organization can boost your job prospects. The Corporation for National and Community Service found in its 10-year study of 70,000 unemployed individuals that those who had volunteer experience were 27 percent more likely to find a job than those who did not. Investing in your community is an investment in your professional well-being.
4) Connect with passionate and like-minded individuals 
Building a strong community of women who genuinely support one another can help those in the group achieve more. According to "shine theory," a term coined by writers Aminatou Sow and Ann Friedman in New York Magazine, spending time with successful women makes you more likely to be successful. Establishing a trusting bond among women can help everyone do more and be more.
Helping to ensure that young female leaders are aware of their worth, value, and abilities is an absolute honor and privilege. For me, becoming a mentor helped me realize that I can be the "right person" in a young woman's life.
What will you do to assist young women in your community?
Maddie Bro is a project manager at Frank N. Magid Associates, an international research-based strategic consulting firm in Marion, Iowa. She graduated with bachelor's degrees in journalism and gender studies from the University of Iowa in May 2016, earning highest distinction, university, and departmental honors. In addition to being a WIB mentor, Maddie serves on event planning committees for Planned Parenthood of the Heartland and assists with several community projects in the Iowa City/Cedar Rapids corridor.
Author: Sehseh Sanan - "What it's Like to be a Mentee"
In an effort to become more involved in Women in Business at the University of Iowa and further my personal growth, I signed up to be connected with a mentor at the start of the Fall 2016 semester. I was extremely fortunate to be paired with my mentor: a recent grad who is working at a company she previously interned for.
My mentor and I meet monthly; we go out for sushi, talk about a wide range of topics (ranging from professional growth to personal), and we develop our friendship. This ongoing experience has benefited me in a number of ways, but the biggest impact has been access to Maddie's network and wealth of knowledge. Being a recent graduate and a current professional allows her to empathize with my position and thoughts and also guide me with her advice. Because we share a number of similar interests, our discussions can range from current events to our future career goals.
In terms of awareness, connecting to my mentor has allowed me to be connected to her network. She's aware of numerous upcoming events that pertain to our interests and continually shares them with me. This has made an impact because the events we attend are informative; providing differing views on various subject matter, and often providing a new take on whatever the subject may be.
Without the addition of Maddie in my life this semester, I believe that my personal growth in terms of thinking about my professional life and my awareness of local events would not be at the point that they are now. In speaking about my personal experiences with mentorship, I highly encourage women to incorporate such an experience into their life.
Author: Lauren Rouck - "Teerific"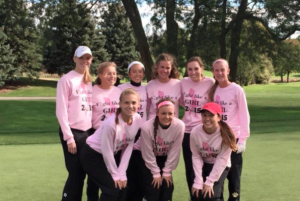 Volleyball, softball, cheerleading, and dance team are all popular sports for high school girls. How about golf? Most commonly known as the boring sport old men play, golf is not a familiar activity many high school girls enjoy. As I decided to quit volleyball and try out on a whim for the golf team in high school I had no idea what type of adventure I was beginning to embark on. Prior to trying out for the golf team in high school I did not have any experience with the sport besides a few games of mini golf with my family during our vacations. However, this sport became a great part of my life and helped shape me to become the person I am today. Golf has taught me several great life lessons which I will begin to elaborate on.
1. Always be open to meeting new people.
While I met some of my best friends on the golf team I also met girls from different high schools with all kinds of interests and backgrounds. During season the golf team would have Saturday morning tournaments. Tournaments lasted six or seven hours, so we were definitely able to get to know the people we were playing with well. I would usually play with three other girls all from different high schools. Their true personalities shined through as we played through our round. I felt like I had the opportunity to meet many interesting people on throughout my experiences playing in tournaments. While I was quite different from some of the girls, I found that we were always able to come together during the tournament and share laughs as we enjoyed playing golf. I realized the importance of always giving people a chance. It's rewarding to connect with others who may be different from you because they can give you a different and valuable perspective on situations that you may not have had otherwise.
2. One mistake doesn't define you.
As we grow up and face challenges we always hear the typical phrase, "it's just one test," or "it's one bad paper, your grade will be fine," I rarely believed these phrases and oftentimes dwelled upon failure. However, as I began to play golf my mentality changed. Golf is a long, mentally draining game. When you hit a bad shot you can either dwell on it and continue to struggle or pick yourself up and make the next one better. This lesson is very applicable in situations I face in life today. As I face obstacles I reminisce back to my time on the golf course and reflect on my determination to push through the times I hit bad shot after bad shot but still managed to pick myself back up and continue my round. Life is about continuing on even when it seems impossible. As I started college and faced struggles leaving home and balancing academics with activities I remembered how I kept going in the times I struggled on the golf course and decided I needed to focus on my plans to move forward.
3. Sometimes an unorthodox plan is okay.
My decision to try out for the golf team was a quick decision and I threw away years of playing travel volleyball all to try a new sport I had no experience with. After spending my summer at the high school volleyball camps I decided I simply was not having fun anymore. I wanted to play a sport surrounded by positive people where I enjoyed myself.The decision to quit a sport which I directed a great amount of time, energy, and money towards was definitely not an easy choice. However, I realized that sometimes it's okay to do impractical things and follow what makes you happy. Life is never a straight path and sometimes you have to go off the road a little to find what works.
Author: Gina Sears - "What it Means to Lean In"
As modern-day (business)women, we all have a responsibility to advocate for every woman having opportunities to succeed in their careers as well as in their personal lives.  Because each of us have experienced some type of sexism or other unfairness in our lives due to our gender, it will continue to be important to band together as women in order to fight against it.  This is an endless task since at least one woman somewhere on the globe won't be able to break through the barrier like we hope to – and this is unacceptable.  As long as women are mistreated in the workplace, at home, walking down the street, or anywhere else, we all have to recognize it, talk about it, and combat it.
One of the benefits of an organization like Women in Business in Tippie is that the members are able to relate to one another on a common level, meaning that we are all aware of the struggles we might face in our future professions, and we are lucky enough to have a platform to discuss them.  Having the opportunity to participate in Lean-In Circles during the semester take this idea even further (not to mention gets you up to six event points J).
The ultimate goal of Lean-In Circles is to "grow together, learn together, step outside comfort zones, and empower each other".  While these seem like formal commitments to "lean in", these activities are achieved in much simpler ways than you might think.  For instance, just attending the professional circles give us the opportunity to hear from professional women who have experienced firsthand some of the scenarios that we as college students often imagine in our futures.  We are learning together in these circles because we all become more knowledgeable and prepared for certain situations our careers might bring.  In social circles, we can talk about everyday things like classes, exams, interviews, job offers, certain problems, advice, WIB events, other student orgs, vacation plans, and literally anything else.  Connecting and relating to each other in these ways makes it easier on all of us as women to be open about what is going on in our lives – this helps us grow together, step out of our comfort zones, and empower each other.
WIB and Lean-In Circles have personally given me more chances to come out of my shell, share in experiences with other people, and gain such invaluable information about being a woman in the business world.  We should all appreciate that we have such a unique platform to express ourselves as future businesspeople, but also to open up to each other as peers.  Coming together in WIB, not only can we contribute to making our personal and professional futures better, but we can pave the way for other women to succeed in the same way.
Author: Rhea Burns - "The New Business Major - Enterprise 
Leadership"
When I started school at University of Iowa my freshman year, I had absolutely no idea what I wanted to major in. So, like many first year students, I started pursuing a nursing major. I soon realized that chemistry and biology were not my area of interest or expertise by any means. I then began my search for a major that would better suit my interests and skills.
I ended up visiting my academic advisor nearly seven times in my spring semester alone, I was determined to find a major before starting sophomore year. I told him that I was interested in pursuing business, but I wasn't sure which discipline. That is when he suggested I look into the newest major on campus, Enterprise Leadership.
My advisor had explained it to me as a "well-rounded business degree for those interested in entrepreneurship". As I looked more into it, I learned that the major combines business with liberal arts. The program is designed for students who are interested in entrepreneurial business leadership.
I recently learned that Enterprise Leadership is the fastest growing major in the country at this time and the University of Iowa has one of the best entrepreneurial programs. So far, I have been very satisfied with my experience taking classes to pursue this major and hope that other students will continue to choose it!
Author: Nicole DeCoste - "Reflection on my First year in 
College and in WIB"
 I'm just now finishing my first semester at college, and wow did it go by quickly. It seems like just a few weeks ago I was moving all of my things into my tiny little dorm room. But here I am, studying for my last two finals and packing my bag for home. College, like everything else, has its ups and its downs. With those ups and downs, however, come some really exciting times.
I came to college enrolled as an Econ major in the Tippie College of Business. While I'm only taking one business course currently, I feel like I've gotten a feel for Tippie, and so far really like it. Being a part of Women in Business has allowed me to become more a part of Tippie than I would've been otherwise.
I'd never heard of Women in Business before going to the Student Org Fair during the first week of school. I figured, hey, I'm a woman who's also in business, this sounds right up my alley. I got some information and started to get really exciting for everything this organization had to offer. The only problem was that I didn't have any business clothes. That was easily fixed, however, with an afternoon trip to Target.
I love that 
WIB
 gives me the opportunity to surround myself with other women with similar goals to my own. It's allowed me to make friendships that are both social as well as professional. I truly believe that who you're surrounded with has a big part in your success. Especially in business, where networking is so important, it's crucial to be around people with similar goals. 
WIB
 gives me that opportunity, and I'm so grateful for that.
The professional trip to Madison, Wisconsin, was by far my favorite 
WIB
 event of the semester. While waking up at 4:30 wasn't the best thing ever, the trip that followed proved to be way worth it. We got to tour many amazing businesses and see panels involving many successful women. The panels were incredibly inspiring, and really solidified my interest in business. Listening to the women talked also inspired me to add a finance major along with my econ major. Apart from being a great networking and learning opportunity, it was a great way to meet other 
WIB
 members and explore Madison with them. I'm already planning to go on the spring professional trip, and can't wait. I'm incredibly grateful for the opportunities 
WIB
 has given me.