Author: Anna Noll
Hey guys! My name is Anna Noll and I'm a junior at Iowa, majoring in Human Resource Management and Marketing Management with a minor in Mass Communication. This is my second semester in WIB and for those of you who don't know me, I am the queen of Pinterest. I live and breathe it!
Anyways, with all my Pinterest knowledge I wanted to share with you guys some of my favorite recipes that I found! To start my series is my all time favorite the "Chicken Parmesan Casserole"
This recipe is perfect for every college student who wants something filling, wholesome, savory, easy to make, and more importantly CHEAP!
You can use left over chicken, frozen chicken breasts, or a rotisserie chicken from the grocery store.
** If you use frozen chicken breasts please be sure to cook it fully according to the
instructions on the package before adding it to the casserole!
Use a 8×8 casserole dish
Ingredients
4 cups fully-cooked chicken, shredded or cubed
1 jar (28 ounces) of marinara sauce
½ cup shredded or grated Parmesan cheese
1½ cups shredded mozzarella cheese
1 cup panko or whole wheat bread crumbs (I like panko better!)
1-2 tablespoons olive oil
Salt and pepper, to taste
* Optional * fresh, chopped herbs (parsley, basil, oregano, etc), to taste
* What I used * dry herbs like Italian seasoning, or oregano, rose mary, basil, etc..
Spaghetti noodles
Instructions
Preheat oven to 350 degrees.
Grease an 8×8 casserole dish with cooking spray.
Layer the chicken in the bottom. Dump in the marinara sauce and mix with the chicken.
Top with both cheeses until all the chicken is covered
In a small bowl, mix the breadcrumbs, olive oil, herbs, and a dash of salt and pepper together.
Sprinkle the seasoned breadcrumbs over the top.
Bake for about 20-25 minutes or until golden on top and bubbling on the sides.
Next fill a pot with water and set onto a burning set on high till water is boiling
Once boiling, place desirable amount of noodles into water
Add a splash of olive oil and mix so noodles don't stick together
Once noodles are done, drain noodles through a strainer over the sink
Scoop casserole onto noodles and ENJOY!
Hey Ladies, it's Anna again! For my second part of my recipes series is one I made up by myself! It's my "Spooky Halloween Chicken Alfredo."
I came up with this idea when I was shopping at ALDI's this past October and came across some Halloween shaped pasta and thought it was too cute to pass up! When I brought it home I looked to see what I had in the pantry and decided CHICKEN ALFREDO!
This is the perfect Halloween inspired dinner that puts everyone in the Halloween spirit while being so EASY and yet again CHEAP to make!
This recipe serves 3-4 people.
Here's what you need:
Halloween shaped pasta (I got mine at ALDI's)
3-4 Chicken breasts
Alfredo (a jar or 2)
Seasonings
Olive Oil
Salt and pepper, to taste
Green food dye
Instructions
Chicken
* If using frozen chicken breasts follow instructions below, if not skip to Noodles *
Thaw out all chicken breasts accordingly
Preheat over to 375 degrees
Season chicken breasts with any seasoning you like (I like Italian seasoning)
Place chicken in pan and cook for 45+ minutes
Make sure chicken is cooked ALL THE WAY before consuming. Cut chicken in half to make sure there is no pink. If there is, place back in oven to cook a little longer till fully cooked.
Noodles
Next fill a pot with water and set onto a burning set on high till water is boiling
Once boiling, place desirable amount of noodles into water
Add a splash of olive oil and mix so noodles don't stick together
Once noodles are done, drain noodles through a strainer over the sink
Sauce
Pour jar(s) of alfredo sauce into a large sauce pan and place on a stove burning at low-medium heat
Add in green food dye till desired color
Continuous stir still sauce is warm
Finally
Assemble them all together and ENJOY!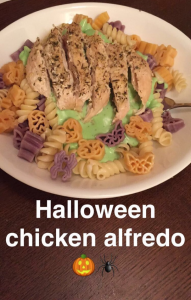 Hello again! Anna again! For my finally recipe I am going for more of a sweet and tangy fall desert, APPLY CRISP!
After going to Wilson's Apple Orchard and getting too many apples, I needed a recipe that was quick, easy, cheap, and tasty.
If apples aren't your thing you can use this same recipe and swap out the fruit to make Peach Crisp, Rhubarb Crisp, or even Blueberry Crisp!
ENOUGH TALKING! Here's the recipe!
Serves 4-6
Ingredients
Filling
4 golden delicious or Granny Smith apples
2 tbsp ground cinnamon
Topping
2/3 cup all-purpose flour
1 cup brown sugar
2 cup Quaker Oats
2/3 cup melted butter
Instructions
Filling
Peel, core and slice the apples into eighths or sixteenths
Place them in a bowl with the ground cinnamon, and gently toss to coat
Pour into an 8-inch square pyrex dish, or similar.
Topping
Mix the flour and brown sugar in a large bowl
Add the Quaker Oats and mix well
Pour the melted butter over the mixture and again, mix well
Sprinkle the topping evenly over the apples
Bake/Serve
Bake at 375°F for about 30 minutes.
Serve warm or at room temperature with a scoop of vanilla ice cream. Yum.
ENJOY!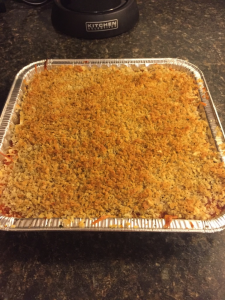 Author: Amber Gerard
Here are some great Christmas dessert recipes that everyone in the family will enjoy.
Peanut Butter Fudge
Ingredients:
2 cups brown sugar
2 cups white sugar
1 cup milk
1 ½ cups creamy peanut butter
1 tablespoon margarine
1 ¼ teaspoons vanilla extract
Cooking Directions
Mix brown and white sugar with the milk in large pot; bring mixture to a boil. Stir in peanut butter, reduce heat to medium, and bring the mixture back to boil (stirring constantly). Remove the pot from heat when a drop of the mixture forms a ball in a glass of cold water.
Stir margarine and vanilla into the mixture; stir vigorously until the fudge hardens. (Always stir in same direction.) Pour fudge onto buttered plates or waxed paper. Let cool and cut into 1-inch pieces.
Chocolate and Hazelnut Cheesecake
Ingredients:
2 Cups semisweet chocolate chips
1 ½ cups vanilla wafer crumbs
¾ cup toasted, ground hazelnuts
2 tablespoons white sugar
3 tablespoons butter, melted
3 (8oz) packages cream cheese, softened
1 cup white sugar
3 eggs, beaten
3 tablespoons hazelnut liqueur
13 skinned, toasted hazelnuts
4 tablespoons sour cream
1 tablespoon hazelnut liqueur
Cooking Directions
Using a blender or a food processor, finely chop 1/3 cup semisweet chocolate chips. Place in a small mixing bowl. Add vanilla wafer crumbs, ground hazelnuts, 2 tablespoons white sugar, and melted butter or margarine. Mix until well combined. Press onto the bottom and up the sides of a 9 inch springform pan. Bake in a preheated 300 degrees F (150 degrees C) oven for 15 minutes. Cool.
In a large bowl, beat the cream cheese until fluffy. Gradually add 1 cup white sugar; mix well. Add the eggs and 3 tablespoons liqueur. Mix until well blended. Coarsely chop 1 cup of the semisweet chocolate chips, and add to the cream cheese mixture. Stir. Pour batter into the cooled crust.
Bake at in a preheated 350 degrees F (175 degrees C) oven for 1 hour. Let cake cool for 1 hour. Remove outer ring from pan. Then let cool completely.
Melt 2/3 cup semisweet chocolate chips over hot (not boiling) water. Stir until smooth. Dip 13 hazelnuts into the chocolate, covering one-half of each nut. Shake off the excess chocolate. Place on a waxed-paper lined plate. Chill until set.
To the remaining melted chocolate, add sour cream. Mix well. Stir in 1 tablespoon liqueur. Spread glaze on top of the cooled cheesecake. Garnish with chocolate dipped hazelnuts.
Pumpkin Roll
Ingredients:
¾ cup all-purpose flour
1 cup white sugar
1 teaspoon baking soda
2 teaspoons pumpkin pie spice
1 cup pumpkin puree
3 eggs
1 teaspoon lemon juice
2 tablespoons confectioners' sugar
1 (8oz) package cream cheese, softened
¼ cup butter
1 teaspoon vanilla extract
1 cup confectioners' sugar
Cooking Directions
Preheat oven to 375 degrees F (190 degrees C). Grease and flour a 9×13 inch jelly roll pan or cookie sheet.
In a large bowl, mix together flour, sugar, baking soda, and pumpkin pie spice. Stir in pumpkin puree, eggs, and lemon juice. Pour mixture into prepared pan. Spread the mixture evenly.
Bake at 375 degrees F (190 degrees C) for 15 minutes.
Lay a damp linen towel on the counter, sprinkle it with confectioner's sugar, and turn the cake onto the towel. Carefully roll the towel up (lengthwise) with the cake in it. Place the cake-in-towel on a cooling rack and let it cool for 20 minutes.
Make the icing: In a medium bowl, blend cream cheese, butter, vanilla, and sugar with a wooden spoon or electric mixer.
When the cake has cooled 20 minutes, unroll it and spread icing onto it. Immediately re-roll (not in the towel this time), and wrap it with plastic wrap. Keep the cake refrigerated or freeze it for up to 2 weeks in aluminum foil. Cut the cake in slices just before serving.
Here are some drink recipes that keep you warm while it gets below freezing outside. I hope you enjoy the taste and warmth of the drinks.
Hot Chocolate
Ingredients:
Miniature marshmallows or sweetened whipped cream (optional)
1/2 cup sugar
1/4 cup HERSHEY'S Cocoa
Dash salt
3/4 teaspoon vanilla extract
4 cups (1 qt.) milk
1/3 cup hot water
Cooking Directions
 Stir together sugar, cocoa and salt in medium saucepan; stir in water. Cook over medium heat, stirring constantly, until mixture comes to a boil. Boil and stir 2 minutes. Add milk; stirring constantly, heat to serving temperature. Do Not Boil.
2. Remove from heat; add vanilla. Beat with rotary beater or whisk until foamy. Serve topped with marshmallows or whipped cream, if desired.
Winter Lemonade
Ingredients: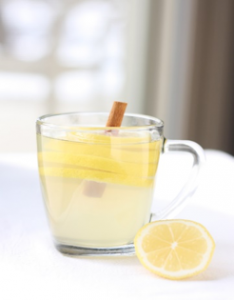 1  cinnamon stick
1 organic lemon
1 tablespoon of honey per glass
Cooking Directions
1.Heat a glass of water to the boiling point.
2. Cut the lemon into thin slices. Using the cinnamon stick as a skewer, slide on each lemon slice. Then place it into the glass, crush the lemon slices a bit with a spoon, and allow to steep for 5 minutes.  Then stir in a tablespoon of honey.
3. Once you finish drinking the first glass, and are ready for another, just fill it up with very hot water, let it steep again, and stir in another tablespoon of honey. The essential oils of the lemon and cinnamon will continue to be extracted all day as you refill it with hot water. A bottomless glass of Winter Lemonade to help you feel better.
Hot Vanilla Milk
Ingredients: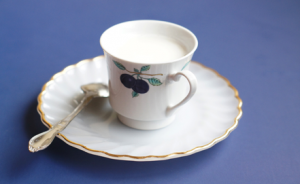 1 cup milk
1 1/2 tsp. vanilla
1 tbsp. sugar
Cooking Directions
Warm milk in the microwave or on the stove. Add vanilla and sugar. Optional: top with whipped cream, cinnamon, or chocolate sauce. Or just drink it straight-up like I like it!
These recipes are some of the things I love making and not only that can't seem to stop eating once I have taken the first bite. I hope you enjoy them as much as I did.
Salsa Recipe
Ingredients:
2 (14½ oz) cans diced tomatoes
1 medium onion
4 cloves garlic
1 jalapeño pepper, deseeded
2 tsp freshly squeezed lime juice
1 tsp salt
1 tsp freshly cracked black pepper
1 tsp granulated garlic
6 tbsp cilantro
Directions
Strain tomatoes and reserve juice. Roughly chop onion, fresh garlic, and jalapeño; add to food processor fitted with a metal blade. Add juice from tomatoes, lime juice, salt, pepper, and granulated garlic. Process on high for about 30 seconds.
Add about ½ cup of diced tomatoes and process on low for an extra 5 seconds. Add remaining tomatoes and cilantro and pulse until desired consistency is reached. It's ready to serve immediately, but you can also let it chill in the refrigerator overnight to let the flavors combine.
Here are some substitutes for ingredients if you don't have one of them
Onion – onion powder or dehydrated onion flakes
Garlic – granulated or jarred garlic
Jalapeno – any fresh hot chili or hot pepper powder
Lime juice – any citrus juice or vinegar or lemon juice also works I use this most of the time
Cilantro – any type of herb you have will work as well
If you get canned jalapeño it is 5 tablespoons of the jalapeño but for me that tends to make the salsa too hot for me to eat so I normally go with two it depends on how hot you want it.
Lemon Bars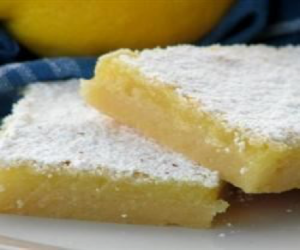 Ingredients:
1 cup butter, softened
½ cup white sugar
2 cups all-purpose flour
4 eggs
1 1/2 cups white sugar
¼ cup all-purpose flour
2 lemon, juiced
Cooking instructions
Preheat oven to 350 degrees F (175 degrees C).
In a medium bowl, blend together softened butter, 2 cups flour and 1/2 cup sugar. Press into the bottom of an ungreased 9×13 inch pan.
Bake for 15 to 20 minutes in the preheated oven, or until firm and golden. In another bowl, whisk together the remaining 1 1/2 cups sugar and 1/4 cup flour. Whisk in the eggs and lemon juice. Pour over the baked crust.
Bake for an additional 20 minutes in the preheated oven. The bars will firm up as they cool. For a festive tray, make another pan using limes instead of lemons and adding a drop of green food coloring to give a very pale green. After both pans, have cooled, cut into uniform 2 inch squares, and arrange in a checker board fashion.
Substitutes
If you do not have lemons, you can use lemon juice that is sold in bottles as well.
Better than sex cake
Ingredients: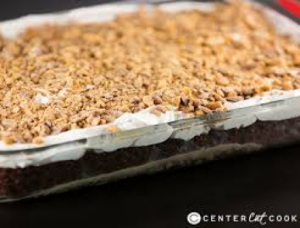 1 (18.25 ounce) package devil's food cake mix
1/2 (14 ounce) can sweetened condensed milk
6 ounces' caramel ice cream topping
3 or 1.4 ounces' bars chocolate covered toffee, chopped
1 or 8 ounces' container whipped topping
Cooking Directions
Bake cake per package directions for a 9×13 inch pan; cool on wire rack for 5 minutes. Make slits across the top of the cake, making sure not to go through to the bottom.
In a saucepan over low heat, combine sweetened condensed milk and caramel topping, stirring until smooth and blended. Slowly pour the warm topping mixture over the top of the warm cake, letting it sink into the slits; then sprinkle the crushed chocolate toffee bars liberally across the entire cake while still warm. (Hint: I crush my candy bars into small chunks as opposed to crumbs – I like to have pieces I can chew on!)
Let cake cool completely, then top with whipped topping. Decorate the top of the cake with some more chocolate toffee bar chunks and swirls of caramel topping. Refrigerate and serve right from the pan!
Substitutes
Devils cake- if you don't have that you can use any kind of chocolate cake mix that you have.
Chocolate covered toffee- heath is a good candy bar to use
Author: Natalie McGovern
Christmas Desserts!
As the finals week is coming ahead in full force, it only seems fit that everyone has an activity or two in place for a good study break! That being said, who doesn't love Christmas? And who doesn't love dessert? A combination of the two is just what everyone needs in their life as finals are coming as well as a great holiday season. There a few types of people when it comes to baking and cooking, those that go all-out and on the other hand people that just want the sugar with minimal effort. Below are three recipes for Christmas treats all of which making are the perfect study break time before finals are here!
The first recipe are Santa Hats snicker doodles, the best part is they are exact same as regular snicker doodles except with a Hershey's kiss on top
Mix butter, 1 1/2 cups sugar and eggs thoroughly in a large bowl.
Combine flour, cream of tartar, baking soda and salt in a separate bowl.
Blend dry ingredients into butter mixture.
Mix 3 tablespoons sugar, and 3 teaspoons cinnamon in a small bowl.
Scoop 1 inch circles of dough into the sugar/ cinnamon mixture.
Coat by gently rolling balls of dough in the sugar mixture.
Place on chilled ungreased cookie sheet, and bake 10 minutes.
Remove from pan immediately.
Once cooled, place a Hershey Kiss in the middle and press it into the cookie to ensure that it stays!
This second recipe is a Christmas themed party mix. For this one all you have to do is grab your combination of the following snacks
Pretzels
Pretzels coated in white chocolate, dark chocolate, or both
Red and green m&ms
Vanilla chex
Kettle corn
Anything else sweet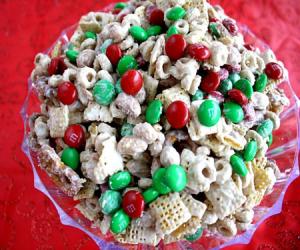 The third and final study break combination is hot chocolate and sugar cookies.
For the hot chocolate stir your choice of cocoa powder (preferably Hershey's) skim milk, and a teaspoon of white sugar
For the sugar cookies gather a teaspoon of baking soda, ½ teaspoon baking powder, 1 ½ cups of white sugar, an egg, teaspoon vanilla extract, and a cup of softened butter
Preheat oven to 350 degrees F
Mix flour, baking soda, baking powder
In another bowl mix butter and sugar until creamy
Add in egg and vanilla
Bake 10 to 12 minutes or until cooked
Let it cool
Once you need another study break you can decorate these sugar cookies with frosting!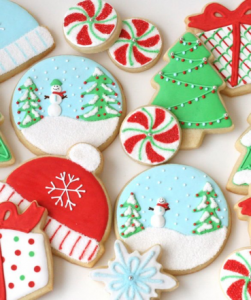 Author: Gina Sears
Hey all!
If you're anything like me, the holiday season is probably your favorite time of year – aside from the horrendous weather, of course.  Since it's getting extremely close to that time (yay), I figured I'd post some super simple, super delicious, tried-and-true recipes that never fail to hit the spot during the holidays.  I've made them countless times, and I'll be making them yet again to bring to my sister's holiday party in a couple weeks, so I thought I'd share them with you all J
Rum and Grapefruit Spritzers – because we all need a little rum to handle seeing our relatives during the holidays
What you'll need: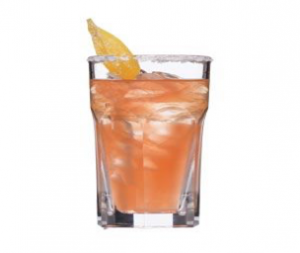 1 grapefruit wedge
2 c. pink grapefruit juice
1 c. ginger ale
¾ c. light rum
Kosher salt
Candied ginger slices (or anything else you'd prefer to use as garnish)
What to do:
Combine first 4 ingredients in a large pitcher
Pour a couple tablespoons of salt onto a small, flat dish
Grab 4 glasses and rub the grapefruit wedge over the rims
Dip the rims of the glasses into the salt to coat
Pour drink mixture into the glasses over ice then garnish!
Cheese-Stuffed, Bacon-Wrapped Jalapeños – for the bacon and cheese lovers (which is all of us, I'm guessing)
What you'll need: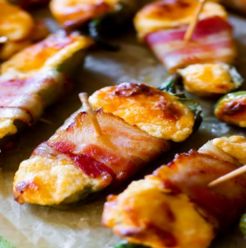 12 fresh jalapenos
8 oz. softened cream cheese
1 cup shredded cheddar cheese
1 chopped garlic clove
½ tsp. paprika
12 slices of bacon
24 toothpicks
What to do:
Preheat oven to 400
Line a baking sheet with parchment paper, set aside
Slice jalapenos in half (stem to end), and remove the seeds and that extra gunk from the center, set aside
Beat cream cheese, cheddar cheese, garlic, and paprika together until combined (a mixer makes this way easier if available!)
Fill each half-jalapeno with an equal amount of cheese filling with a spoon
Cut slices of bacon in half, and wrap one half-slice around each half-jalapeno
Insert a toothpick through the middle of each and lay them on the parchment paper-lined baking sheet
Pop those suckers in the oven for 25-30 minutes then serve!
Scotcheroos – when it's time for something sweet
What you'll need:
½ c. sugar
½ c. light corn syrup
¾ c. smooth peanut butter
3 c. rice crispy cereal
½ c. milk chocolate chips
½ c. butterscotch chips
What to do:
Stir together sugar, corn syrup, and PB in a large glass bowl
Microwave mixture for about 2 minutes until bubbly
Stir cereal into mixture
Press cereal mixture into 9×13 inch pan, set aside
Combine chocolate and butterscotch chips into glass bowl and microwave for about 2 minutes – stir every 30 seconds
Pour melted chips over cereal mixture to cover the entire surface
Let cool completely and then cut into squares!
Author: Rhea Burns
Hello WIB members! Now that fall is almost over and it is getting a bit chilly in Iowa City, I thought I could share some of my favorite Winter recipes! Hopefully these can keep us warm through the cold Iowa winter!
BROCCOLI CHEESE SOUP
Ingredients:
About 3 cups fresh broccoli
1 cup carrot
½ cup onion
2 cups chicken stock
¼ cup flour
Salt and pepper to taste
5 tbsp. butter
8 oz. cheddar cheese, grated
2 cups half-and-half cream (milk works ok too!)
Directions
Sautee onions in about 1 tbsp. of butter. Set aside
Cook the rest of the butter with the flour, adding the half-and-half while stirring
Add the chicken stock and let simmer for 10 minutes
Add the broccoli, carrots, and sautéed onions. Cook on low for 20-25 minutes
Add salt, pepper, and cheese. Serve!
MACARONI WITH CAULIFLOWER
Ingredients:
12 oz. elbow macaroni
1 head cauliflower, roughly chopped
Bread crumbs
½ cup fresh parsley, chopped
3 tablespoons olive oil
1 onion, finely chopped
1 ½ cups grated cheddar cheese
1 ½ cups sour cream
½ cup milk
1tablespoon Dijon mustard
Directions
Heat oven to 400° F. Cook the pasta according to the package directions, adding the cauliflower during the last 3 minutes of cooking time; drain.
Combine bread crumbs, oil, parsley, and salt and pepper. Mix well.
Return the pasta pot to medium heat and add the remaining tablespoon of oil. Add the onion, salt and pepper and cook, stirring occasionally, until soft.
Mix in the pasta and cauliflower and the cheese, sour cream, milk, and mustard.
Transfer to a shallow 3-quart baking dish, sprinkle with the bread crumbs, and bake until golden brown, 12 to 15 minutes.