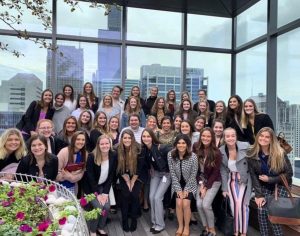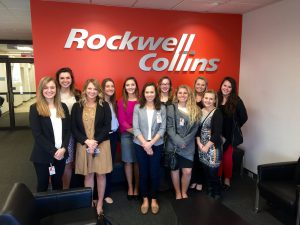 Every semester, Women in Business takes 20-40 members on a professional trip to various cities in the Midwest. These trips are meant to encourage professional development, networking, and provide real world experience.
Women in Business professional trips typically include: 4-8 company visits, charter bus, hotel stay, a night of fun entertainment such as a St. Louis Cardinals Baseball game or Chicago Jersey Boys play, and a free meal provided by Women in Business.
Fall 2020 Professional Trip: Not This Semester 🙁
Unfortunately, WIB will not be having a pro trip this semester. However, we are optimistic about next semester. Stick with us!
Recent trips:
Spring 2020: Des Moines, IA – Principal Financial Group (Day Trip)
Fall 2019: Chicago, IL – CDW, Chicago Blackhawks, Robert Half
Spring 2019: Chicago, IL
Spring 2016: Cedar Rapids, IA – Ameripage Marketing Firm and Rockwell Collins (Day Trip)
For More Information:
Contact the Vice President of Professionalism, Laken Borrett, at laken-borrett@uiowa.edu.
Professional Trips
was last modified:
September 18th, 2020
by