Diversity, Equity, and Inclusion Committee
The Tippie DEI Committee works to achieve 4 main items:
Foster inclusive campus culture and cultural competency
Provide support to students
Increase access and opportunity
Promote education and awareness
We strive to emphasize the importance of DEI education within business and in creating more empathetic and socially competent business professionals. Through the creation and implementation of DEI initiatives, we hope to bridge the gap between students, faculty, and alumni from varied backgrounds to foster a community in which everyone can thrive.
Past Projects/Initiatives
Census Project: Tippie affiliated student organizations are requested to provide Senate with demographic data to receive compiled census reports about the makeup of their respective organizations. This project is meant to help organization leaders think more critically about their organization's recruitment practices.
Cultural Days: Tippie Senate collaborates with the UPO every year to celebrate Dia de los Muertos and Lunar New Year.
Tippie DEI Steering Committee: This committee is composed of Tippie faculty. Tippie senators sit on the board as a undergraduate student liaison to contribute to the college's DEI efforts.
Current Projects/Initiatives
Cultural Conversation: Tippie Senate in collaboration with MBSA and the Tippie Social Impact Community will be holding a large scale Cultural Conversation surrounding the topic of intersectionality on Nov 6.
More You Know Mondays: Instagram campaign to educate users about relevant social topics every Monday. Check them out on our Instagram story!
– Internal Social Impact
Case Competition: The Tippie College of Business UPO sends representatives to national case competition every year all over the country to compete against peers to solve business problems. This spring semester Tippie Senate, the Tippie Social Impact Community and the UPO will be holding Tippie's first internal case competition in the month of April.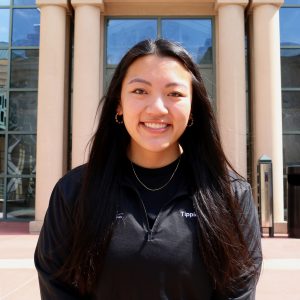 Vice President of Diversity, Equity, and Inclusion: Kyra Lester

Email: kyra-lester@uiowa.edu
We acknowledge the constant room for growth and improvement in our DEI efforts, so we encourage and welcome any feedback from members of our community.
DEI
was last modified:
October 18th, 2023
by