If one thing is certain, it's that the Fall 2020 semester has been full of uncertainty. Yet, students have shown their resilience time and time again this semester by learning to adapt to the changing environment. While it may not be exactly the semester that students were hoping for, they continue to overcome the challenges.
We surveyed students to get their perspective on struggles they're facing, how they've adjusted to the changes, and resources they use to help them succeed during the Fall 2020 semester.
Negative Feelings Towards Hybrid Learning
Out of 71 students surveyed, 42 reported that they are taking a majority of their classes virtually. Almost 60% of students said that this semester falls below their expectations. The hybrid-learning format has proven to be a huge challenge for students to overcome.
Some students described their feelings towards the Fall 2020 semester so far as, "stressful and tedious", "difficult and frustrating", and "underwhelmed and overwhelmed at the same time". One student went on to say, "I am performing the best I can and utilizing all the resources at my disposal, however I benefit from in person discussions and lectures."
It's apparent that the nontraditional semester has instilled feelings of doubt and anxiety for many students. While students seem to fully grasp the circumstances, it has proven difficult for many to remain motivated. The increasing reliance on meeting virtually and lack of in-person activities leaves some students feeling mentally drained and unmotivated.
"I feel very isolated. I have some in person classes but the worst part of it all is the inability to be involved in any student orgs in person. My college experience is not the same, I miss my friends, and even though some things are still offered over Zoom I really don't want to get on another Zoom call willingly after staring at a screen all day for class."
Among difficulties that students have encountered during the Fall 2020 semester, Zoom meeting fatigue was the main obstacle reported.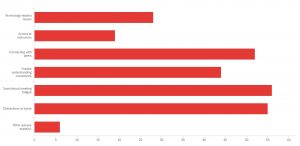 Generally, students echoed a similar sentiment that they perform better when receiving instruction in-person over a virtual format. In particular, one student's comments embodied this sentiment saying, "While professors are much better at dealing with the online format then last year, I am learning MUCH less online than I learn in my in-person classes." A commonality among students who prefer in-person instruction is the ability to connect with professors and peers.
"It's harder to make friends in classes because we're not in person, and group projects are not in person usually either. Some of my good friends I've met through group projects, and I miss our times being in a study room goofing off. Now everything is just about the actual coursework, which is important, but there is no longer anything fun involved because being virtual just doesn't give off the same vibe."
For students who find that interacting with others gives them energy, this semester has been especially difficult. When asked about major differences in their educational experience this semester, one student responded, "the lack of connection and that resulting in me feeling like I have no motivation." With less frequent opportunities to engage with others while walking to classes or studying in the Bizhub, many students miss the daily interactions they were used to. Another student simply stated, "I just miss my friends and talking with people."
Additionally, students have increasingly had to deal with mental health challenges during this semester. One student reflected on their challenges with ADHD and how that has impacted their learning experience saying, "I have ADHD and it [has been] extremely, extremely hard for me to focus not in a classroom environment."
The increased dependency on completing courses virtually has taken a heavy toll on students' ability to focus and learn. Another student reporting feeling that, "much of this semester has felt overwhelming. The course load in online classes has almost been heavier than that of in-person classes, taking into account the potential technical difficulties and increased need for proper communication."
It's clear that the majority of students have felt that their academic success has suffered this semester. Between the tension and uncertainty of our current social climate and students' difficulties with adjusting to a primarily virtual college experience, the majority of students expressed concerns about their ability to perform their best this semester. However, Tippie students do not give up when it comes to achieving their goals.
Finding the Positive
While the Fall 2020 semester has presented many challenges to overcome, students have managed to find positives in the situation. Among the positive outcomes students reported experiencing, having a more flexible schedule was one of the top responses.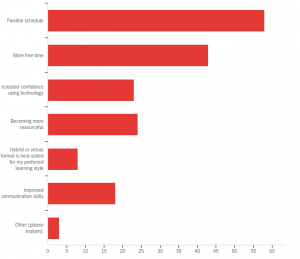 One student described overcoming the challenges this semester saying, "Although the initial learning curve was difficult, I feel into a great rhythm and enjoy having online classes. It allows me to watch lectures and do assignments on my own time between engagements and hectic scheduling of events/extracurricular and jobs."
Similarly, another student remarked that, "I learn a lot better when I can do the work on my own and seem to excel in this kind of education environment." While virtual learning may not be effective for all students, this semester has taught many of them how to thrive in an online environment. One student reflected on the impacts they've experienced in engaging with content virtually saying, "This semester online showed me how effective recorded lectures are, and how they can be utilized more in our classes in the future."
Whether we like it or not, working virtually is quickly becoming a new norm. Students' ability to adapt to this environment will provide a major advantage when transitioning into the workforce. One student provided some recommendations for becoming more successful in the online format, saying,
"Turn video on as much as possible during Zoom meetings! I've learned that doing classes online can get overwhelming, and it's easy to forget to do things. To combat this, I've been using a digital calendar that I can access 24/hours a day and edit/cross things off of my list. Game changer. Finding ways to interact with others and making sure you take care of yourself are super important."
As many students discovered, forming connections has become much more difficult this semester. One student shared how they combated this lack of in-person communication saying, "Group meetings over Zoom are super effective – meeting times are easier to find. I've gotten to know my peers so much better this semester in breakout rooms."
Many students also learned to take initiative in reaching out when they need help. Whether attending Zoom office hours, emailing instructors, seeking out assistance from tutors, or talking with peers, students have demonstrated their resilience and resourcefulness when it comes to succeeding in their coursework.
Resources Students Have Found Most Beneficial
Despite the challenges presented in the Fall 2020 semester, students managed to find ways to improve their learning experience. Check out some of the resources and strategies that students recommend to stay engaged and maximize learning outcomes!
Meeting with classmates:
Talking to other peers to help me learn when possible

Meeting with groups via Zoom to understand coursework

Using the

share-screen feature in Zoom
Instructors providing assistance:
Professors sending out reminders before due dates

Empathy and understanding from my instructors

Seeking help – emailing instructors

, attending office hours, individual meetings with professors

 
Staying organized:
Getting up early to get things done

Structure the week out at the beginning of the week to know when all

your

assignments are due

Using

 a planner has been 

really helpful

for me

Making a to-do list and schedule every day and sticking to it
Learning Styles:
Maximizing use of recorded lectures – Pre-recorded lectures help me better understand content because I can pause to take notes, go back if I don't understand something and rewatch lectures and supplementary videos before exams as a review; recorded lectures were super helpful! Not only did it allow me to watch them on my own time, but also was helpful in referencing information.

Studying – I taught myself some new studying techniques and found some studying apps that have been helpful this semester; s

tudying

 with roommates and using study 

videos

 on 

YouTube; Quizlet

TAKE NOTES!! – Detailed notes have been a godsend and help me to focus and retain information; hand write

 notes

If a class was in-person but moved to virtual instruction, still do the class material at the pre-assigned time. If it weren't for COVID, we'd still be in classes at certain times and it helps to keep you accountable

 

The ability to ask all questions through chat makes me feel more confident then asking questions in-person

External resources – Learning coaches, m

y advisor, library guides and resources