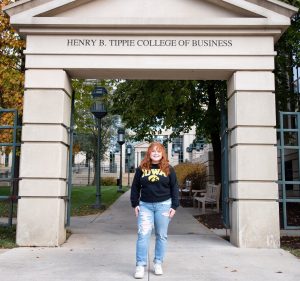 In a few short weeks the December 2020 graduating class will celebrate their accomplishments and join the Tippie Alumni family. For Bella Volfson, there's extra reason to celebrate the upcoming event.
Bella was recently selected to be the Fall 2020 Tippie Commencement Speaker. With a staggering six Tippie RISE experiences completed, determination to forge her own unique path, and a passion for building relationships, Bella fully embodies the Tippie spirit.
In this interview Bella discusses how she got to where she is today and what the recognition means to her. Additionally, Bella reflects on her college experience, favorite Tippie memories, and tips on setting yourself up for success. There is no doubt that Bella will commemorate her graduating class exceptionally.
Tell me a little about yourself. Where you're from, what brought you to Tippie
.
I'm from Davenport, Iowa. My dad actually went to Iowa, so I knew I was probably going to end up here. On my 18th birthday, it was a Saturday and there was an Admitted Students Day at Tippie, so I thought I might as well go. I went by myself, my parents didn't come with me, and Ken Brown noticed that I was by myself. He approached me and asked me who I was and what my story was. After talking to him for 10 minutes, I knew that this is where I needed to be. I was stuck between here and another school, but talking to him just made me feel really welcomed. He even followed me on Twitter immediately! That's what ultimately brought me to Tippie, that interaction with Ken, and I've maintained that relationship with him over the last 5 years. 
What inspired you to pursue 
a
degree in Marketing?
I chose marketing because I'm really outgoing, so I knew I wanted to be in a field that would allow me to work with other people and build relationships with them. I'm also very creative, so I wanted to be able to use my creative side within my work. I felt like other majors were more analytical or didn't allow the creative use as much. Really, I chose marketing because I thought I could make my own kind of degree with it. For example, I took an Intro to Photography class and now I own my own photography business. The marketing courses offered and the electives I could take really allowed me to make my own path and do what I wanted. 
How did you get your start with photography to then go and start your own business?
I was 16 when I first started, but that was very amateur and I didn't know very much about it. Taking that class my first semester at Iowa really allowed me to expand and grow in that. Then I got a job with Marketing & Design at the IMU as a photographer, so I've been able to shoot things like the Bad Suns Homecoming Concert, I met the actors from The Office and I did shoots with them. Now I also work at Tippie as a Social Media Intern, so I do a lot of photography around Tippie for their social media platforms.  
What have been some of your favorite classes that you've taken?
At Tippie, specifically, any class with Nancy Abram.  Doesn't matter the content. I think that she's such an amazing person. She's very raw, keeps it very real, and I think that's really necessary when you're about to enter the real world. She's been a great mentor over the years. I also really liked Consumer Behavior with Chelsea Galoni, and being part of Marketing Institute also really, really helped me out.  
What do you attribute your success at Tippie to? 
Are there any specific
 initiatives 
you took
 to set 
yourself apart?
I did 6 different Tippie RISE experiences over the years. I think that getting involved really made a difference, inside and outside of Tippie. It allowed me to become more well-rounded and connect with different people from in the business school and outside the business school. 
I took a non-traditional route where I probably emphasized more time in my extra-curriculars than in school, which is reflected in my GPA. But I think getting involved in different things allowed me to have different opportunities which was really, really helpful.  
Out of all your Tippie RISE experiences, is there one that 
really stands out as
 your 
favorite?
Studying abroad in Russia really changed my life. My dad is from Russia and I went to Moscow, which is where he's from, and I really just wanted to see where he grew up. By taking that semester and challenging myself to go outside of my comfort zone, it allowed me to return and join different student organizations like Multicultural Business Student Association. It helped me realize what I needed to do to become more well-rounded as a businessperson.  
What have been your most memorable experiences at Tippie?
Yesterday, I was actually thinking about when I've been the happiest in Tippie because obviously I haven't been in the business building very much this semester. There's nothing like walking through the BizHub or one of the gallerias and seeing your friends there. Stopping to talk to them on the way to class or sitting with them in Pat's Diner, the connections and the friendships I made at Tippie are going to last a very long time. I met my best friends there, so it's been hard this semester to not have those same experiences where you randomly stumble upon someone that you really care about. But reflecting on those memories is what helps to have such a positive experience – the community at Tippie, for sure.  
What would you say are some of the best lessons you've learned during your time at Tippie?
For my commencement speech I'm actually talking about this! I have four top things that I've learned. 
Change is okay. It's okay for things to not go as planned. The outcome is always going to be different from what you initially thought, but it could come out better than you were hoping in the end. Just be accepting to change. 
Face the future head on. It's coming and there's nothing you can do to stop it. If you didn't study for an exam, that's your choice and the outcome is going to be what you put into it. Just acknowledge that the future is unstoppable, and it's just about how let it impact you and how you're going to handle the challenges that are put in your way.  
Failure does not define you. I failed a class my junior year. I did not think I was going to; I thought the curve was going to help me. There was no curve. That was really hard to rebound from. I thought that I was never going to amount to anything and that this grade was going to determine the rest of my college experience. But I retook it the next semester and got a D. I moved to New York and got an internship in New York City right after. I think people put so much emphasis on failure in college and they don't think they're good enough or not going to achieve anything, but that's just not the case. It's how you respond to that failure. 
You determine your own path. There's no set path that everyone has to take. As I said I'm a marketing major, but I took a photography class, I'm in an anthropology class right now and graphic design, and I did Alternative Spring Break. You don't have to do everything by the book. You're allowed to do what you want and enjoy and what's going to help you become the best version of yourself. Do what makes you happy. Ultimately, you're the only one that's going to be having those experiences. 
In your opinion, what are some of the "must-do's" that other students should do or experience before graduating?
A must do at Tippie is getting to know your advisors and get to know the people in the UPO because they are very supportive, very positive people and they will always have your back. They're more than just someone you can go to when it comes to classes.  
At the University, have a radio show through KRUI. I got involved with KRUI my sophomore year. I worked my way up to Marketing Director one year and was the Assistant General Manager another year, but I always had a radio show. It was a great way to just let loose, play music you wanted to hear, and show your creative side. I definitely recommend it for students.  
For Iowa City in general, volunteer! I really enjoyed every time I went to the Ronald McDonald House and volunteered there. It's really a great way to give back to families that are going through something horrible and traumatic at the time. It's also very easy; you get to cook, you get to spend time with your friends, you get to do something enjoyable. Looking for volunteer opportunities around Iowa City to give back to the community that does so much for the University in general is a great way to get involved.  
What are you most looking forward to in the next few weeks before graduation?
I'm looking forward to graduation itself. It's something that I've been working towards for the last four and a half years. You know, you go through these classes you don't necessarily want to take and you're just like, "when is this going to end, when am I going to get to do what I want to do?". Now that time is coming for me. I'm excited to sit down with family and celebrate all the accomplishments that I've had throughout the years. 
Reflecting on your experiences at Tippie, is there anything you wish you had done or done differently? 
I wish I would have studied more. I would have spent more time focusing on the academic side rather than extracurriculars. Those experiences did really help me grow professionally, but the classes and the lessons you have in class are invaluable. I wish I would have paid a little bit more attention to my schoolwork, taken advantage of office hours, and connected with professors more. Any professor is always going to be in your corner, regardless of how well you know them or not. But going the extra mile to get to know them can really help you in your future.  
Could you share what being selected as the Tippie Commencement Speaker means to you?
This is something that I've wanted since freshman year. I knew that I was good speaker, it just was a matter of presenting myself well and showing that I was capable of doing so. I thought that the commencement speaker was someone who had the highest GPA. Obviously, as I said, studying was not my forte, so that's not the factor for me, but it shows that my hard work paid off. The involvement and the experiences that I've put myself through – failing a class, studying abroad, having internships – have made me a well-rounded enough person to represent the class. It's a huge honor that I was selected. I'm speaking for however many people are graduating and that means a lot that they think I'm well encompassed enough to do the job well.  
During these
unprecedented times
, with COVID-19 cases rising and all classes moving online,
h
ow are you approaching the
already 
difficult task of preparing and delivering a commencement speech? 
How did you decide what you wanted to share at graduation?
I had the privilege of working with Pam Bourjaily for 2 weeks, meeting twice a week, and she gave me really good feedback. I had some other people reach out and help me with my speech, which was really nice. While I'm disappointed that I can't deliver it in-person, it also takes some of the pressure off me because I'm able to just record it by myself.  
I wanted to talk about my experiences because I think my path and what I did during my time here at the University is really unique, but I also wanted to make it relatable to everyone else. I decided to share stories and lessons I've learned along the way. Even if my specific story isn't something that someone else went through, they're able to take away the underlying message and apply it to their own situation. I wanted to really make sure that everyone felt included and that their story was also being relayed through what I was saying, even if we hadn't gone through the same exact things.