John Staak can't seem to get enough of the Iowa Hawkeyes and is back for Round 3 at Tippie this semester. After graduating from the MSBA/MBA program in 2019 and working as a Customer Analyst at Casey's, John is ready to conquer his PhD. Get to know John and learn more about his decision to join the Marketing PhD program below!
Could you start by telling me a little bit about yourself and your experiences at the University of Iowa?
I grew up in Iowa City. I've lived here most of my life, but I can be really confident in saying that it's a really special place to be. I also got married in May last year. My wife and I met freshman year of college.
I was really inspired in my undergrad to go into the Marketing field and then ultimately, try for this PhD in Marketing. I remember classes with Rob Rouwenhorst, Nancy Abram, and Nick Westergaard. The content and concepts they presented was fascinating. You have this whole field of understanding on how markets work, how consumers behave, and how you can study that and tailor your business strategies around that.  
After undergrad, I went to work for a company called Converge in Cedar Rapids. Converge was a digital marketing agency and we also built websites there, but we specialized in the higher education industry. I was an account manager there, which meant that I managed digital advertising accounts. Think search engine marketing, social media marketing, helping develop ad copy, and building strategies around budgets. I really enjoyed the consulting part of my work and it was heavy in analytics. I didn't really know it at the time because I was just managing ad accounts, but there's a lot of analysis that would go into how you should spend your budget, across what platforms, and setting up testing to figure out what kind of ads are the most responsive.  
That was a really incredible experience. It was a really small company, I think I was employee #12. It's since grown to be much larger. That really sparked my interest in analytics. As much as I loved working at Converge, I really wanted to get a more generalized background in analytics that wasn't focused on a specific industry or marketing application.  
So I thought about my MBA, which is a well-rounded approach to business. I keep coming back to Iowa because I know the quality that comes with the faculty at Iowa. They had a stand-alone track for Analytics in the MBA, so I thought, perfect, I can learn all about Analytics and get the holistic view of business that an MBA offers. That led me to the MBA and MSBA, which was a great program. I didn't know anything about Data Science or Analytics before and in two years, all the sudden, you're writing code in R and SQL. It's pretty remarkable.  
Throughout that program, I had the chance to work on a couple of field projects and I enjoyed the hands-on experience with companies. So I worked on this project with Kum & Go and then I just so happened to end up working for Casey's. It was kind of serendipitous.  
Could you tell me a little bit about the work you did with Casey's? 
My role was a Customer Analyst. Before going to Casey's, they went through a value creation strategy. They created new departments, and specific to my role, they created a Digital Experience team. Within that they created a Customer Analytics & Insights team with the initiative to have a much better understanding of how customers purchase, what they purchase, what the patterns are, and how do we understand that to better serve them. That's what led me to Casey's. The timing worked out that they were creating that team as I was graduating from the MBA program. 
In my position, we could learn a lot about our customers from our databases, but in a lot of cases people aren't databases. There's a lot that goes missed because we're just looking at their data. I did a lot of field observations at Casey's to observe how customers shop, what they buy, and how they interact with different parts of the stores. I gained so much information about customers that way. Since I couldn't do that all day every day, the idea of tapping into the knowledge of frontline workers in a structured way opened up so much more insight into what the customers want. 
Now I'm doing consulting part-time for Casey's. I think it's important, if you have the opportunity, to do both [work and do the PhD program]. It helps you stay in touch with real business applications and real problems that companies are trying to solve. It helps you stay grounded in how you can apply research to problems that companies are pulling their hair out trying to solve. I'm excited to stick with them because it gives me an inside look at the challenges for retail companies of needing data robustness and validation provided through research. 
H
ow
did your
undergraduate and MBA experiences shape your outlook on marketing?
I took Nick Street's Data Science class and I think that got me really excited for retail analytics. It made me realize we don't have to just speculate about how consumers might behave. We can predict it. And in some cases, we can predict it really well if we have the right data.  
Rob Rouwenhorst was also a big influence on me with the way he taught. In class he was always going to tell you how it is and tell you what the world is like. It was entertaining to be in his class and I learned so much. He definitely had a big impact on me. 
What prompted you to make the decision to join the PhD program?
I don't think there was a singular event. It's funny because I found an old list of goals from when I was an undergrad and a lot of them were "pie in the sky" goals, but one said PhD in Marketing. So, it must have been something I was thinking about for a while. I've always really liked school and researching, acquiring knowledge and learning. In the past couple years, as I was reflecting on what I want to do with my career 10, 20 years down the road, I was thinking about what brings me the most fulfillment in my job. I could think of two instances when I'm most happy. 
One is when I'm teaching a coworker or someone outside the company about a new concept or a new way to do something. I realized that was so fulfilling to know I'm making an impact, even if it's small, that's going to make their lives better.  
The other is coming across a really interesting and actionable finding in data that nobody else has seen before. So, I thought about what career lends itself to those two areas. Being a professor is very research-focused, but you're also constantly teaching and interacting with students. So I did some exploration, and just decided to go for it.  
What area of research are you most interested in? Wh
y do you think it's important to study?
I'm trying to go into this program with an open mind and really take the first few months to explore that. My role at Casey's was very customer-centric and I'm really fascinated with customer analytics, mining customer level data to understand their behavior and what motivates them. 
I think it's important because if companies want to best serve their customers, which is what marketing is all about, it's absolutely critical to understand how they behave, how they purchase, and why they might lapse. Looking at customer segmentation and what natural segments of customers emerge and why that is. Then using that to explore improvement for marketing strategy. Customer analytics is an ambiguous area and normally research is hyper-focused.  
Specifically, I will say I have an interest in researching online customer behavior and optimizing e-commerce experience. I think that's going to be increasingly important in the age of COVID and a really sought after area for best practices and research. It's an area that has a lot of ongoing research, but how people are using digital is constantly changing.  
I worked closely with rewards programs at Casey's to understand how customers use the program and what incentives work best to keep them engaged and loyal. I'd say, in general, I'm interested in Customer Analytics, but more specifically, research around digital platforms, how to optimize e-commerce experience, rewards programs, and customer centricity.  
What are you hoping to gain from 
this 
experience and how do you plan to apply it?
I think the big thing is converting data into insights into theory. The benefit of the PhD program is you think about how can you move from insights that data provides into theories about why people behave the way they do. It's taking one step further, beyond the data, to understand why some phenomena happens and helping companies, or anybody really, leverage that. You're creating knowledge for why something happens. 
What advice would you give to undergraduate marketing students starting to think about post-graduate life?
First, figure out what gives you energy and what makes you excited, and figure out what you're good at. Then, find the intersection of those two areas and you'll be really happy in whatever you're doing.  
Second, I really wish as an undergrad I branched out more and reached out to people in business or even professors. It can be a little bit intimidating when you're 19-22 years old to reach to somebody who is a Chief Marketing Officer or has a big, prestigious title. People really want to help, I've found out. Especially when you're a student, they want to help that much more. It kind of gives you an automatic in to be able to reach out to anybody. 
What are you most looking forward to this semester and the rest of your PhD program?
Just exploring areas of customer insights, getting really deep into those topics, and exploring all the possibilities for research. At this point, it's a little overwhelming how much opportunity there is, but the program is extensive and it affords you the time to think about really interesting areas that are in demand for research. On top of that, working with faculty, learning from other students, attending conferences, and understanding emerging areas of research. Additionally, working with companies to figure out what they would like to know and then thinking about how academic research could fit that need. 
My approach is to integrate constant communication with industry, specifically retailers, to understand what problems need to be solved. Then, look for opportunities where academic research can build theory and methods around solving those problems. I think it's absolutely crucial to be in touch with businesses and real-world problems.  
Favorite things about 
Iowa City/University of Iowa?
It's a big city opportunities because of the resources and opportunities, but small town feel. It's a great restaurant scene, which I love to eat so I'm really happy about that. My favorite restaurant is Stella, but Big Grove is also tied for number 1. Overall, Iowa City is really a unique and tight knit community. 
As far as the University goes, I think Tippie and the faculty have always impressed me. I've always really enjoyed learning from them and being mentored by them. That's why I've been loyal to the University. And Iowa Football, of course! 
Favorite quarantine activities/hobbies?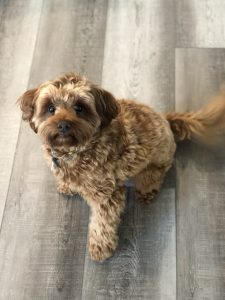 Golf, Netflix (recently watched The Umbrella Academy and The West Wing), playing with my dog, a mini Goldendoodle named Dot (pictured right), and reading. Some of the books that stand out are Contagious: Why Things Catch On by Jonah Berger, and Thinking, Fast and Slow by Daniel Kahneman. Both books are from academic researchers, but those types of books that are in the popular press do so much to further their ideas.