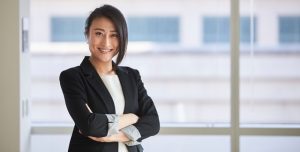 After 14 years as an Associate Professor with Tippie, Alice Wang was recognized this semester with a promotion to Professor of Marketing. Most recently, Alice made headlines when KCRG reported on her research regarding the impact of loneliness on purchase habits. We sat down with Alice to discuss her research and recent recognition. 
Alice Wang was originally drawn to the Tippie College of Business for its research environment and has since made quite the name for herself with her consumer research. Between teaching at the undergraduate and graduate levels, Wang has also been a Henry B. Tippie Research Fellow for the last 6 years. 
Her interest in marketing research stems from the advice of an instructor during grad school who recommended studying marketing. Since then Alice has taken a psychology-based approach to studying how consumers make decisions. Her research on how loneliness affects consumption patterns recently made headlines in this KCRG article. Most recently her research focuses on time perception, specifically regarding service wait times. Through her research, she discovered ways in which to switch peoples' mindsets about the length of wait time they observe.
In the future, Alice plans to further research the concept of loneliness, the persuasiveness of narratives in marketing, and areas related to disposition – such as how people get rid of their stuff and their attachments to belongings. 
In her 15 years with the college, Alice has most enjoyed the research environment and interacting with students. She loves how the research community is full of active thinkers to discuss ideas with and how the Marketing Department is always supportive of faculty research. Additionally, the college provides amazing resources to do her research. With teaching, she appreciates students' eagerness to learn and enjoy every moment at the college. She also enjoys getting to work with PhD students on their interests.
As a recently recognized professor, Alice reflected that it felt good to be recognized for her hard work over the years. She stated, "It's one thing to work on your interests, but another to have people understand the importance of your research." Alice has also taken on the role of Director of Graduate Studies, working with PhD students, developing policies, and overseeing the marketing curriculum. 
Alice is extremely dedicated to her work and when asked how she enjoys spending time outside of school, her response was, "I'm here all the time, even on weekends!" When she manages to spend time outside of Tippie Alice can be found supporting her 12-year-old daughter, who she commented also keeps her very busy. 
Her favorite thing about Iowa City has been the lively, broad perspectives from people all over the world. She enjoys exchanging ideas in a very intellectual town of both professionals and academia.
We congratulate Alice Wang on her recent achievements and are proud to have her on the Marketing team!