This month's Student Highlight is Ashlyn Shumaker. Ashlyn first discovered her passion for sustainability in an Environmental Science class at Valley High School in West Des Moines. She recalls "geeking out" over renewable energy and sustainability throughout high school, even considering pursuing a career as a chemical engineer for awhile.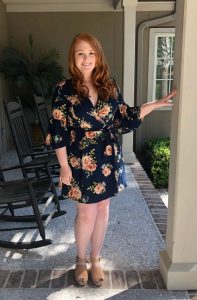 While at the University of Iowa, she became especially interested in corporate social responsibility and sustainability in business, changing her major to Marketing and Environmental Science. After hearing about the Sustainability certificate in her Contemporary Environmental Issues course, she decided to change her path for the final time.
Ashlyn is now pursuing her Marketing degree on the analytics track, a Sustainability certificate, and an Entrepreneurial Management certificate. She commented that she loved that students, "could apply the sustainability certificate to any major." Ashlyn's combined interests have allowed her to bring in a different perspective when it comes to internships, group projects, and student organizations. The Sustainability certificate has enabled her to express considerations that are sometimes overlooked when it comes to formulating ways to solve problems and working on projects. 
To no surprise, Ashlyn's favorite course has been Marketing and Sustainability, taught by Sara Maples. This course enabled Ashlyn to take her knowledge of marketing and sustainability, and apply it. The experiential learning course brings in companies for student groups to consult for, teaching students how projects can be adjusted to promote sustainability in business. The class allowed her to learn more about the ways in which sustainability can impact marketing.
As a voice for sustainability, Ashlyn had the opportunity to apply her knowledge in an internship with Leepfrog Technologies, located in Coralville, this last summer. She was able to work on a project developing CSR policy for higher education due to her knowledge of sustainability in business. Ashlyn's hopes that every company integrates a sustainability perspective into the back of their mind. With a growing desire for natural and eco-friendly products, Ashlyn pointed out that companies need to keep up with trends in social change to appeal to their customers. She went on to say, "New generations need to know that companies align with their beliefs. They won't just take your word, they want proof that the company is dedicated to their mission." 
In the future, Ashlyn hopes to find a job in which she can utilize her knowledge of marketing and sustainability to be a voice for sustainability for a company whose mission is similarly aligned. After gaining experience in the corporate world, she plans to attend grad school for Corporate Social Responsibility and eventually become a consultant. 
Ashlyn views sustainability as necessary in business now, saying, "It should be part of everyone's thoughts. Exposing people to it earlier can get people motivated sooner." Ashlyn recommends getting involved with one of the various sustainability student organizations on campus or work on sustainability projects within current organizations. Her final advice? "Get passionate about something and run with it, talk and build relationships."