Andrea Luangrath was first drawn to the Tippie College of Business in January of 2017 for its renowned research reputation. When asked about her decision to start her career at Tippie, Andrea expressed gratitude for the opportunities it has provided her to teach and research her interests in consumer behavior. With a background in marketing research from the University of Wisconsin-Madison, Andrea knew that she wanted to be a part of the amazing research culture within the marketing department here.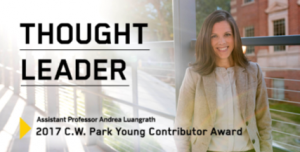 As a Research Assistant in her undergrad, Andrea was first exposed to the research process while doing consumer research with faculty on the topic of sensory marketing. She stumbled upon the opportunity to do research in this area, but the exposure developed a curiosity and desire to learn more about consumer behavior that is evident in her research and teaching today.
In 2017, Andrea was awarded the C.W. Park Young Contributor Award from the Society of Consumer Psychology for her paper, "Textual Paralanguage and its Implications for Marketing Communications". In a field where recognition is uncommon, Andrea was honored that others found the implications of her research useful, which she stressed should always be the goal in marketing research.
Andrea continues to research different facets of consumer behavior with special interests in sensory marketing, consumer linguistics, and psychological ownership. Currently, she is working to develop an algorithm to automatically detect textual paralanguage, or expressions of nonverbal cues, in social media data, such as Twitter and YouTube. Other areas of her research include; how feelings of ownership affect stewardship behaviors towards public resources, applications of virtual reality to engage with brands, and the power of the haptic imagery process in influencing a consumer's evaluation of products. In the future, Andrea hopes to further examine the growing area of virtual reality and how interfaces influence consumers in a retail setting.
For Andrea, the purpose of research is to share ideas with the world and influence young people's lives through the advancement of knowledge. If you've taken Consumer Behavior with Andrea, you've probably witnessed the regular incorporation of her research into the classroom. By infusing every lecture with consumer research and current happenings in the field, Andrea aims to bring consumer psychology to life and spark curiosity in her students.
Andrea has enjoyed the many opportunities to collaborate with the amazing marketing students and faculty here at Tippie. She encourages students who are interested in marketing research to look into faculty interests and reach out at any point to get involved. Students involved in marketing research are often led down a path of exploration, and quickly learn the entire research process to develop a better understanding of why research matters.
When not in the Behavioral Research Lab or classroom at Tippie, Andrea loves her role as mom to her 3-year old son, travelling with her family, and enjoying the Iowa City Farmers Market.