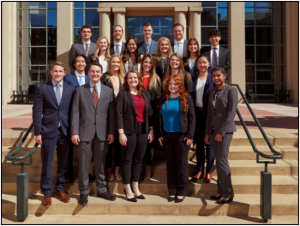 What started out as the brainchild of Tippie faculty members – Cathy Cole, Gary Russell, and Dave Collins – was brought to life by Rob Rouwenhorst back in 2009. In its 10 years, the Marketing Institute has gained significant traction working with small start-ups to multi-billion dollar companies under the direction of Peggy Stover. Peggy brings 20 years of corporate experience to Tippie, with the aim of helping students prepare for and succeed in their marketing careers after graduation. Students enrolled in the Marketing Institute have the opportunity to work with clients and provide innovative marketing solutions to their existing marketing issues. Marketing Institute students gain a variety of hands-on work experience developing products, creating marketing plans, and conducting market research for their clients.
Marketing Institute Scholar, Kaitlyn Reth, first heard about the opportunity in Mark Winkler's Professional Preparation in Marketing course from current scholars in the Institute. She decided to join after hearing students rave about the hands-on experience and real-life applications they gained from the Marketing Institute. Heading into her final year at Tippie, Kaitlyn has been a part of several projects including a consulting project for Travel Dubuque to help raise awareness of the attractions available to locals and visitors. Since joining, Kaitlyn describes her best experiences as working with real clients, building lasting connections with mentors, and gaining more confidence in her marketing abilities as she prepares for a career in consulting. 
Her advice to anyone thinking about joining the Marketing Institute: Apply! Take advantage of the opportunity to go above and beyond with professors like Peggy, who want to help you grow, not just turning in assignments. The Marketing Institute prepares you for dealing with clients, managing your time, and gives you the confidence to succeed in a professional environment.