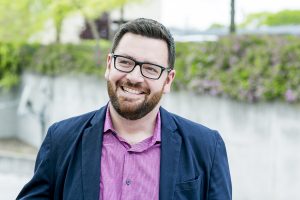 When you think Nick Westergaard, think marketing. A few of his job titles include marketing consultant, speaker, writer, podcast host, and teacher. Nick's rise to success in branding and marketing lends itself to more than a few learning lessons and great stories. 
Nick studied Theater Arts and Psychology as an undergrad at the University of Iowa, and proclaims, "I'm one of those case studies that you hear about of people that come here to school and then just stay." 
Growing up in West Des Moines, one of Nick's close childhood friends was fellow Tippie Marketing faculty member, Rob Rouwenhorst. After working in various marketing roles and then, starting his own marketing consulting firm, Nick was introduced to the Marketing Institute by Rob, and the rest is history. Kind of. 
Sitting down with Nick, we discuss what he's learned during his journey to becoming a successful marketer. Additionally, Nick breaks down how to develop your personal brand, a few keys to delivering a great presentation, and how he maintains his passion for marketing. If you're interested in marketing (which I assume you are if you ended up here), branding, or communication, you're in for a treat. 
Could you start by telling me a little bit about your background?
I grew up in the West Des Moines area and I went to high school in Adell. I ended up coming over here to school and I'm one of those case studies that you hear about of people that come here to school and then just stay. I studied theater arts and psychology. If you're not going to study marketing, a close second or an alternate path, I think would be something that deals with the convergence of behavioral science and creativity, which theater and psychology did for me. 
I started working at educational publishing company, Buckle Down Publishing, in their marketing department. It was a great fusion of direct marketing because the publishing business was kind of notorious in their early days of being a classic, direct mail and direct marketing industry, so I got experience in that, but it was also around the same time that the internet was really growing. I got to oversee a lot of our direct mail become e–commerce, email driven, so I did a lot of that with this company. When that company was acquired, I went to ACT and worked there for a couple of years doing more branding and digital marketing.  
As my passion for that really grew, I decided I wanted to do more than just at an individual company. So, I started to do some moonlighting and eventually ended up leaving and consulting on digital marketing.  
When I grew up in West Des Moines, my very close childhood friend was Rob Rouwenhorst – who is back at Iowa now, was gone for a while – but when he was here for the first time, we reconnected. We both went to Iowa, studied different things; it's funny because neither of them was marketing, but he eventually went into marketing on the academic side and I ended up in marketing on the professional side of things.  
We reconnected, had coffee, and he said at one point, "You should consider being on the advisory council for the Marketing Institute." So, I did that until about a year ago when I finally rolled off. But through doing that in talking about the placement of students in jobs from the Marketing Institute, so many of them were ending up with social media, digital marketing jobs. I asked if we were doing anything to prepare them for these jobs. That's how I've since learned you get chased in the hallway after the meeting and asked if you would like to teach such a course.  
I started teaching social media on the undergrad side of things, and eventually on the MBA side of things. Then, concurrently with all of this because of all the growth in the digital space, I started doing more speaking at events and with all of this ended up with the opportunity to write a book which became a second book.  
Then back to all the teaching stuff that happened, the college decides that in their strategic plan they want to make sure that our students can write and present effectively. They asked if I wanted to take that on. At first, it sort of stumped me because everything else had been so branding and marketing focused. I took a step back and I realized how I do a lot of the marketing work is through speaking through writing and I've really enjoyed it. 
How did you first become interested in marketing? 
It's interesting because I started out with an entry-level customer service job at Buckle Down Publishing and I mentioned that they sent out a lot of direct mail. If you watch old movies with business, you often see or hear people talking about starting in the mailroom, well this business actually had a mailroom, so I actually can say that I started out in the mailroom.  
It was very basic, and it's funny because when you're young and starting out, you don't know what you don't know. Boy, if you ask around like what's a smart thing to say to your employer, "I don't think this is working out, I think I'm going to look for something else," is kind of a way to get let go. But actually to their credit, they heard me say that and they said, "let's look for some more that you could do here."  
I would say that I was not in love with the first iteration of the job, but they had this marketing operation. Since they had people that wrote educational workbooks, they didn't really have marketing writers, what today we would call content marketers. They had all these other people that were writing educational materials and when they had time, they would write a flyer or a catalog.  
As the business was growing, it occurred to them that they would need someone that could do that. It's funny, in talking about career stuff, it seems like a lot of the things that I've stumbled into has started with someone saying would you like to do "X", that I wasn't really thinking about or looking for, but then ended up liking. That's sort of me and teaching too. 
R
eflecting on your p
ast experiences
, 
d
id
you have any 
"come to Jesus" moments whe
n
 you realized what you wanted to do and how 
you were
 g
oing to get
there?
O
r 
would you say that it 
was
more of 
a culmination
of 
everything coming together
?
It's interesting because I feel like I do have a good sense of fit. I think that goes back to the first story that I just told you of kind of naively saying to a boss, "I don't like it here." I think there might have been a better way to say that, but I'm glad I did because I ended up in the right spot. I was at that company for 5 years and I learned a lot, did a lot, had an opportunity to do a lot and leave my mark, and do some major rebranding work.  
Eventually, that company got acquired by a big New York-based conglomerate and ultimately, we were put into a business unit with another publisher that was our competitor. We were kind of reporting to our competitor, so to me, the evidence seemed very clear and the "fit" alarms went off. If Ford has to report to Chevy, that's not a good path for Ford, especially if you're in marketing, making plans about growing, about winning – it seemed like a good time to go.  
I went to ACT from there and it was a very different business environment and culture. It's changed a lot since then, but when I was there, if you hear stories about the white shirt and necktie experience of working at IBM in the old days, it was very similar to that. But it also gave me what I think of as my 'big business experience'. It was very formal, very hierarchical at the time. Again, it's changed since then, but I realized as a marketer there, as you said, my "come to Jesus" moment – and what led me to start doing a lot of freelance work and eventually leaving – was, "I'm a marketer".  
The metaphor I used was, 'I'm a carpenter, I like to make tables'. I don't like to sit at a lot of meetings talking about what building a table could potentially be like. So, that didn't fit for me.  
I ended up leaving and starting a consulting business that I still work on today and still have a lot of fun doing. I speak at conferences as part of that, and also do consulting work with clients, mostly on their marketing strategy, on digital audits and diagnostics, and things like that.  
I'd say one thing that excites me at Tippie, because it used to be, we have professionals doing some adjunct teaching for us, but there's really been a growth in instructional track faculty, beyond academic and research faculty. You'll notice people with the title of "Professor of Practice." It denotes that they are from our practice track, which means that they have industry experience that they've brought back. I think it can be a real complement to our industry-leading research that is being conducted at the University. We have so many out there that are also doing work in the field, as well. To me, it's been a really nice convergence.  
What really
 influenced you
to 
s
tart teaching?
I never really thought that I would end up teaching. I was surprised to be asked and very serendipitous. I think it's one of the biggest blessings in my life because of everything I do; I enjoy it a great deal. I kind of didn't know that other paths existed, to my last point about all the different types of faculty that we have at Tippie, which I think is great, and I didn't know about that from the outside. I just assumed that unless you had a PhD, like my friend, Rob, that that's who taught, and others didn't. I was surprised, thrilled, and blessed to be able to do it.  
I would say of all things that I do – I consult, I speak, I write, I host a podcast, and I teach – I like teaching the most. Through the years, if you look at all those things, I always talk about if you look at a light switch that has lots of dimmers that you can turn up and down, I've had different things turned up at different times in my life. But progressively through the years, my teaching switch has risen up more and more. It's something that I love doing. 
Could you tell me a little bit about each of different positions you currently hold?
Brand Driven Digital is a branding and digital marketing consulting firm that I am the owner and chief strategist of. My wife is also my partner in that business, and another strategist that works with us is actually a Marketing Institute and Tippie Alum, Sarah Moy. It's the three of us and other folks that we bring in, depending on what the project is. So, that's a consulting business I have.  
As part of that, it has some adjacent hats that technically go with it. Probably the biggest promotional engine for that work, I host a podcast called, On Brand, that I've had since 2015. I just recorded an episode this morning for next week that is the 270th episode. I've talked with Seth Godin, Tom Peters, and Guy Kawasaki; brands like Makers Mark, Minnesota Vikings, Adobe, McDonald's, Ben & Jerry's. In a weird way, not being an academic that does research, I consider that a big part of my field work.
A lot of the interviews that I've conducted there have ended up in my books, Brand Now and Get Scrappy, which I suppose is another "hat". Also, my professional speaking is technically a part of that Brand Driven Digital business. 
In a Google search for "Nick Westergaard", you are recognized as an "in-demand marketing speaker"; how did you get your start with public speaking and what do you think sets you apart in your presentations?
I'd say the easiest thing that I look back on is the growth of the internet as a marketing tool. I think it was an inflection point that allowed me to accelerate my career early on, pretty fast. There just weren't a lot of people that wanted to tackle what to do with that. Leaning into what's new is always valuable, so there was a lot of demand to learn more about how to do that. So, that's one need for speakers on this topic.  
The other thing is that if you look at how you brand and market what's ultimately a professional services firm, which is funny because we help people with their marketing and ads, but if you look out there in the world, you don't see a lot of traditional ads for branding and marketing firms. That could seem like a disconnect, but it's just how you brand and market yourself as a professional marketing firm is different. If you're selling your brains to people, you need to sell them first on the idea that you have brains that they would want. So, one of the best ways to do that is through speaking at digital marketing conferences.  
Here's another "come to Jesus" moment for you. I'm a big fan of learning and I've always enjoyed going to conferences. There was a point, and this is probably the shift from running an agency to, 'I think I could do that'. I was at a conference and about midway through, I thought these are great presentations, but I could be standing up there and saying things. I started working towards that; filling out a lot of forms to speak at conferences, and a lot of that was for free. Then, as I grew and started speaking more, I started getting paid a little bit more and a little bit more. Then you write books and that moves you up into another class of speaking as well.  
You were correct in noting earlier that a lot of my hats are related because unless you're a Seth Godin or a Daniel Pink or a Malcolm Gladwell – who are wealthy authors just for being wealthy authors – to excel when you have a book, you really need to look at it as an ecosystem that works together. I'm working with an event now, and they're hiring me to speak and they're going to use my books as part of the program. Again, it's its own kind of ecosystem.  
What are a few tips you would share with marketing students who get
really nervous
when presenting or to improve their presenting skills overall?
Well, I think they're different things. On the nervous side – I just read a line in a Brené Brown book, Dare to Lead, and she was talking about how she's done it so much, that she still gets nervous, but she's not scared. I always transparently say in class, I still get nervous when I do it. Like I share in class, it's one of the things that people are scared most of. Practice in this case really does, if not makes perfect, makes it a whole lot easier. Practice is something that's going to improve your vocal delivery, it's going to improve your physical delivery. As you practice making slides, you're going to get even better at that. So, practice, practice, practice.  
On the other side, in terms of planning, I think that one of the big things for both working professionals and students that have just learned a whole lot and are about to go out in the world, we all struggle with what's called the curse of knowledge. 'I've got so much smarts in my brain, I want to make sure that everybody knows it, so I'm going to try to cram everything in there. It won't fit? That's okay, I'll just talk faster.'  
I'd say a decent through line in me and my work, whether it's marketing or communication, is the importance of simplicity. I think that you have to be really focused about what you say if you want to capture your audience's attention and keep it. I don't think that's accomplished by including everything. 
You've had a lot of success in different facets of marketing, what do you think are the key components behind your success?
I think leaning into uncertainty. It feels "yucky" a lot, but I think that there's things you can learn. Often, there's success as a result of it. Saying yes to weird things, like nobody else wanted to tackle creating an e-commerce website, nobody wanted to think about how we could shift some of those catalogs that we sent out over to email, so I tackled that and learned a great deal from that.  
I had not thought of myself as a teacher, but as I started to do that, it really kind of helped to flesh out own thinking on a lot of this too. I think that it's made me better. My teaching has made me better in the field and the work that I do in the field, I bring back into the classroom. 
What keeps you motivated
 and 
passionate about marketing?
I was recording a podcast this morning and the guest said that the people who can decode what makes the most sense, in terms of media, are going to be successful because there's just too much. I think that, in a weird way, excites me. You can look at marketing today two-dimensionally, and just say, 'there's a lot of stuff; there's a lot of cool, new stuff, there's new content, there's TikTok! If you can just do all this stuff, you got it!'. I don't think that's the case.  
It goes back to simplicity. Simple is hard – that's why we fall back, when we're communicating or presenting, on saying everything because maybe if I say everything, the right thing will be in there and someone will like it, instead of drilling down and focusing. That work is hard, and it takes a lot of thinking, a lot of planning. Ultimately, you have to say it's this one, not that one. You may be right, but you also may be wrong. But I think that kind of thinking is something that continues to excite me. Honestly, I think that's why I've alternated between marketing and communication, even in these examples that I've given to you.  
There was a while, and I'm a branding person, so I thought I had a pretty consistent brand, but I had this odd crisis of confidence once I started teaching personal communication to students. I thought, what do I do? Then, I realized that it felt kind of the same, but I didn't know how to talk about it. So, if someone needs me to describe everything that I do, what I go with is, "I help organizations and individuals tell their story." With organizations, that manifested itself as branding and marketing; with individuals, that's personal communication.  
Why do 
you think it's important for marketing students to have their own "brand"? What are some first steps you recommend
 in
establishing
 your personal brand?
I think that sometimes people can have a hot take on that saying, "you just need to be good at your job; all this personal branding, is that even really a thing?" I think people get hung up because they think that you're going to develop your own logo, t-shirts, and laptop stickers. Not saying that any of that would be wrong, but it doesn't necessarily have to look like we think brands look.  
It needs to feel like brands feel because strong brands are memorable. Strong brands are hard to ignore. Strong brands make you connect and feel something. If you look at those outcomes, an individual looking for work should absolutely want to trigger some of those same things. You have to think about what is an important part of my brand? Through that lens, you can use that to help answer interview questions, help organize a resume.
I am about focus; I am about simplicity. I think you can see that in my personal brand. 
As a personal branding exercise, think about the idea of a 6-word story. Or beyond that, what's one thing that you want the person that walks out of the interview after you're done to think. When they think your name, 'blank', what is the 'blank' that fills in? If there's no blank that fills in, then it's a problem. Then it will truly be a blank and you will fade away from their memory.  
If folks struggle with the idea of a personal brand, they need to first bend their definition of what they think of as a brand. If you have that one thing that you want to be known for, then that becomes a divining rod that you can use in making decisions and it becomes directional. That informs, absolutely, how I answer questions, both in terms of what I say and how I say it.
I try to eat my own dog food a bit in the sense of simplicity because I try not to talk a mile a minute, I try to pause and think. Down to the fact that you can take that to its most peripheral and think about what would someone who values branding and simplicity dress like? You might only have a snapshot of time and if I want someone to think that I'm a bold, creative thinker, maybe that informs what I wear. You might have enough of a personality that you act in a bold, creative way, but your clothing might understate that. 
What specific aspects
 of
 marketing 
or new trends 
in marketing are
 most excit
ing to you
today?
The emergence of content marketing is exciting to me. I have a background in theater, so creating content is very much of interest to me. That's the side that is really exciting to think about, for me personally, but also for brands too. Looking at what that looks like in these new and exciting ways that you can develop to share your story.  
Some of those new ways that brands can tell their story include podcasting, which is such a broad term but it manifests itself in so many different ways. Video, which is one of those things like podcasting that never really skyrocketed, but now it is the premier tool on every major social network. There's more video watched on social networks than the text updates posted, and we know that video has economic impact. We know that customers are more likely to purchase from a brand if they've watched a branded video about that product. Then, all the way up to something new and exciting, like TikTok, that is ultimately a video tool. 
The multi-sensory experiences that we can create as brands on one hand, they require different thinking when it comes to strategy, but they also require people that know how to use and engage in that medium. That's one of the things in talking with undergrads especially, you have this group that has grown up as digital natives and understand these platforms. If you take that and combine that with marketing strategy and analytics, that's a formidable combination.  
What are the biggest lessons you try to teach your students?
Coming from industry, coming from the world of practice, I really think that practical application is a big part regardless of what I'm teaching. It's beyond just thinking about something, hopefully, differently, and learning something, it's that we've had opportunities to try to apply that practice to our work as well.