History
"Shaping People, Shaping Business"

Alpha Kappa Psi was started at New York University on October 5, 1904, making it the first Professional Business Fraternity in the nation. Our ten founding fathers were Frederic R. Leach, George L. Bergen, Irving L. Camp, Robert S. Douglas, Daniel V. Duff, Howard M. Jefferson, Nathan Lane Jr., Frederic R. Leach, Morris S. Rachmil, Herbert M. Wright, and William O. Tremaine. In over 100 years of progress we have welcomed hundreds of thousands to become brothers. In 1976, women were welcomed into our organization who play a vital role in Alpha Kappa Psi today.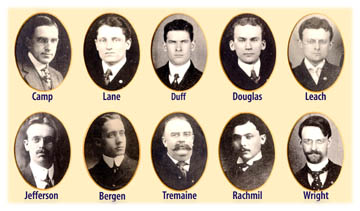 Objectives
To further the individual welfare of its members;
To foster scientific research in the fields of commerce, accounts, and finance;
To educate the public to appreciate and demand higher ideals therin; and
To promote and advance in institutions of college rank, courses leading to degrees in business administration
Alpha Kappa Psi is the largest and oldest professional business fraternity in the world. We are a co-ed organization open to all majors and people who have a sincere interest in the business world. Prominent alumni of our fraternity include former president Ronald Reagan, over 25 governors including former Iowa governor Robert Ray, as well as Wal-Mart's founder Sam Walton, Home Depot founder Bernie Marcus, JC Penney founder James Cash Penney, founder of Continental Airlines Robert Six, and editor and chief of Forbes Magazine Malcolm 'Steve' Forbes Jr.
Locally, we have over 80 active members and have alumni working at top firms such as Ernst and Young, Lehman Brothers, Goldman Sachs, Target, Bank of America, as well as a host of other top businesses.